Description
2014+ Toyota Tundra CrewMax Ported Subwoofer Box Dual Kicker L7 Solobaric 8″ subwoofers
This Toyota Tundra CrewMax Ported Subwoofer Box is custom designed to hide behind the seats in your 2014+ Toyota Tundra CrewMax. The subwoofer box is designed and tuned to work TWO Kicker Solobaric L7 8″ Subwoofers – that's right 900 watts of pure Kicker thump. When properly tuned a subwoofer box will bring your music listening to a whole new level. Sure this box gets loud and has a lot of thump, but our primary goal was to obtain great sound quality. You get the best of both worlds, great sound quality and the ability to "live loud" when that moment hits!
The box is made here in the United States with high quality MDF. Don't settle for cheap particle board boxes that you find on online auctions and many other discount sites. You will not get the sound quality you are after. After each box is hand built box we coat the subwoofer box with a high quality polyurethane bed liner spray. Keep in mind the 2014+ Toyota Tundra CrewMax has very little room behind the seat. You will need to remove your seat for installation. However after the installation you can put the seats back in place. You will want to matt the rear wall before you install the sub, this will keep the rear wall from rattling. We suggest Ballistic Matting.
Box Dimensions:
53″ x 21″ x 7″
1346.2mm x 533.4mm x 117.8mm
Weight: 55lbs
Shipping Dimensions:
56″ x 24″ x 10″
NOTE: You will need 1.5lbs of polyfill or six 27×27″ sheets for the box and subs to operate properly. WE do not recommend using "loose" polyfil. Smaller pieces can get sucked into voice coils and destroy them.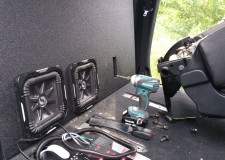 More Cone = More Decibels
The Solo-Baric's cutting-edge, square-sub design ultimately means more cone area, more air displacement and, therefore, more decibels than a conventional round woofer. With a patented corner-ribbed, double-stitched Santoprene® surround helping to hold the massive motor structure in place, the Solo-Baric L7 provides durability at a high excursion without compromising sound quality.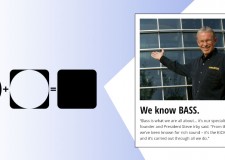 Engineered for Performance
The Solo-Baric L7's highly-engineered motor structure handles huge power and provides extreme output. With heavy-duty, ribbon tinsel leads intertwined with semi-progressive spider technology, the square sub promises dependability when pushed to the limit, while dual voice coils with high-temp copper windings easily handle intense heat and power levels.
Injection Molded SoloKon™
In addition to the unshakable structure, the Solo-Baric revolves around KICKER's most advanced cone design, the injection-molded SoloKon™, which adds targeted strength for reliable performance and accurate response. The 360-degree, constant-contact back bracing adheres directly to every contour of the SoloKon square cone, maximizing the mechanical coupling of the motor while making the woofer as strong and responsive as possible.
Heat Control
Venting in SoloKon's back-bracing and along the perimeter of the spider landing provides maximum air-flow to cool the voice coils during operation. The woofer utilizes a high-mass, extended pole piece to aid in heat dissipation.
Basket Case!
The distinctive cast-aluminum basket provides a strong motor foundation, maintaining a low temperature and a mild magnetic field for the most efficient motion, as well as protecting the Solo-Baric's specialized inner workings. The Solo-Baric L7 woofer remains available in 2-Ohm or 4-Ohm DVC and conducts business from a sealed- or vented-box application.
A properly tuned subwoofer box (enclosure) matched to a quality subwoofer will bring your music listening to a whole new level. Once you install a quality subwoofer in Toyota Tundra you will wonder how you lived without one. Many people equate a subwoofer with sound competitions or the neighborhood kid rolling down the street. When a subwoofer and speakers are matched to your vehicle, you will enjoy music quality like never before. Be sure to check out our turn key packages for your Toyota Tundra. In 2014 Toyota decided to re-design the rear seats in the Toyota Tundra CrewMax. Like many Tundra owners, we were not happy with the limited seating adjustments. Additionally, the new seating configuration made installing a full size subwoofer next to impossible – well since most folks do not want to give up any storage under the seats. After testing a number of subwoofers and box designs, we came up with a 12" ported subwoofer box that fits behind the seats of your 2014+ Toyota Tundra. Installation is quick and easy and requires just a few simple (reversible) modifications to your Tundra. The seats will return back to proper position after the installation. This bundled installation kit includes discounted pricing on the following items: 1 – tacotunes.com 2014+ Ported Subwoofer Box 12″ 2 – Kicker Solobaric L7 8″ Subwoofers in 2 or 4 Ohm load (How to select proper subwoofer load) 1 – Mounting Bolt 1 – Mounting Plate 1 – Terminal / Wiring Cup 1 – 24″ Red 12 gauge wire 1 – 24″ Black 12 gauge wire 8 – Wood Screws (subwoofer hardware) 4 – Wood Screws (terminal cup hardware) 2 – 27″ x 27″ sheet polyfil
Kicker L7 8 inch subwoofer Dual 2 Ohm Toyota Tundra Crewmax
Kicker L7 8 inch subwoofer Dual 4 Ohm Toyota Tacoma Tundra Crewmax
Specifications
Size (IN.,CM)
8, 20.32
Impedance (OHMS)
4 DVC
Max Rec Amplifier Power (WATTS PEAK/RMS)*
900/450
Sensitivity (dB 1w/1m)
83.6
Frequency Response (Hz)
28-100
Mounting Depth (IN.,CM)
4-3/4, 12.1
Mounting Cutout, Square (IN.,CM)
7-1/4, 18.4
Min Rec Sealed Box Volume (CU. FT., Liters)
.33, 9.4
Max Rec Sealed Box Volume (CU. FT., Liters)
.75, 21.2
Min Rec Vented Box Volume (CU. Ft., Liters)**
.66, 18.6
Max Rec Vented Box Volume (CU. Ft., Liters)**
1.0, 28.3
*Assumes typical music program with minimal amplifier clipping; varies with enclosure size. See your KICKER dealer for details.
**Port Volume Excluded.
Due to continual development, product, and specifications are subject to change without notice. Stillwater Designs and it's agents are not responsible for typographical errors.