Tundra CrewMax Double Cab Audio Products
---
Your TUNDRA ROCKS! Now so will its audio!
Select from
complete audio packages

or the

parts

you need to build your own!

With over 20,000 Tundra customers around the world ALONG with 1000+ Tundra local audio installs, we are the "tundra guys". Our products are rolled into customer financing at Toyota dealerships.

We offer 3 different options to assist the vast majority of our customers.
Complete Plug and Play packaged systems designed for your Tundra.
High level audio system upgrades designed for the audio connoisseur.
Parts that will make building your own system fast and easy.
Tundra CrewMax Stock System Overview / system FAQ
2014+ System Overview and NON JBL system upgrade:
Can I add and amplifier(s) and keep my stock head unit (stereo)?

We offer two solutions for the non JBL stereo in the 2014+. The ReCurve EZQ is generally used in higher end audio systems while our plug and play EZAMPS are generally used in our mid level systems. If you are looking for superb sound quality, have a bigger budget then the ReCurve EZQ is probably your best choice. If you are looking for really good sound upgrade from your stock system, the EZAMPs will not disappoint you.
Please note that both the ReCurve EZQ and the EZAMPs both use our plug and play wire harness system. In the NON JBL stereos you do not have to cut or splice any of the factory wiring. All the plugs match the stock harnesses

The only solution we offer for JBL equipped Tundras is our ReCurve EZQ. The plug and play amps do not work at this time.
What size speakers fit my Toyota Tundra CrewMax?
Why do you guys recommend components and a subwoofer?

As explained in the videos below, to build a quality sound system you need the right size drivers for the job. Most customers that come to our shop and say I really don't want a subwoofer have A. Never had subwoofer before or B. Had a poorly designed enclosure or very low end subwoofer. 99 times of 100 the vast majroity of our local customers end up with a subwoofer in their system. I wish I had a dollar for every time I heard I really don't want or need a subwoofer . . we demonstrate with and without the subwoofer and they always change their mind. To many people think that subwoofers are for shaking mirrors or annoying the neighbors. However, when you install a properly tuned and matched subwoofer to a component speaker set, you will enjoy music quality that many have never experienced. Sure our SQ1 packages get very LOUD, but the primary goal is sound quality. Just look at the smiles in our many customers here on the site and Facebook. We should have started posting pictures of customers long ago.




What are component speakers?

A component speaker is a set of car audio drivers matched for optimal sound quality. Typically a pair of tweeters and mid-bass drivers are matched with a crossover to limit the frequency range each speaker must accurately reproduce. Component speakers drivers are physically separated so the tweeter, which is very directional, can be placed in an optimal position, usually facing the listener, while the larger mid-bass driver can be placed where there is room, often in the lower front of the car doors. Component speaker pairs are offered by high-end speaker manufacturers. We often like to place these in the Front doors of each vehicle. Components by nature and design tend to provide much better sound quality.
Example 6.5? Component Speakers

The CTX65CS is an amazing bang for buck speaker. This speaker will outperform component sets costing twice the price. They are rated for 100 watts RMS per speaker. We regularly power them with 125 watts and they simply perform unbelievably for their price point. We have been authorized dealer for Image Dynamics for over 5 years. This is our number one selling speaker. We get nothing but amazing feedback on this speaker. Sometimes we have a hard time keeping them in stock. We offer these with custom sized speaker adapters, custom tweeter mounts and the hardware to get them installed in your Tundra CrewMax.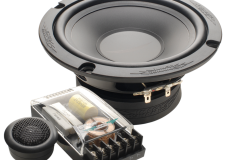 Toyota Tundra Image Dynamics CTX65CS Component Speakers
This set will allow you to use your factory speaker locations without any cutting or modification to your Tundra CrewMax. Plus you don't have to worry if they will fit. The speaker mount will replace your stock speaker (see video) and the tweeter includes an adapter that allows you to replace your dash speakers.


Stock stereo system Overview


2014+ Toyota Tundra CrewMax Stereo System Overview and audio options
Many customers ask us about their stock stereo system. Below you will find detailed information about the stock components that were installed by Toyota. Toyota offers two stereo options in 2014+ Toyota Tundra CrewMax. The base audio system and the upgrade JBL Premium Audio.
Stock Head Unit (Stereo):
In 2014 Toyota added some really nice features to the Toyota Tundra CrewMax audio systems(s). A few of the features included in the new Entune stereo system include Bluetooth , Pandora, Iheart and numerous other features and functions. With all these features along with other non-audio features integrated into the stereo, replacing the stock head unit (stereo) is becoming more of a challenge. Although the head unit has undergone a major upgrade, the rest of the audio system is "lacking" at best. We receive hundreds of email from customers asking us what options they have to upgrade their stereo system.
Initially we focused on higher end solutions. However, we now offer entry and mid-level audio upgrades as well. From our high end sound processor to our inline/ plug and play amps, we make it easy to upgrade your sound system. With very little modification to your Toyota Tundra CrewMax you can enjoy amazing sound quality in your Toyota Tundra. We offer a number of different audio solutions based on your budget.
Stock System Overview in the Toyota Tundra CrewMax
About your stock speakers:
Dash Speakers:
The dash speakers are approximately 3? 15 watts speakers with a simplistic crossover system that makes them operate similar to a tweeter in a component speaker set. Check out our adapters that allow you to install aftermarket component speakers / tweeters in your Tundra.
Front Door Speakers:
The front doors in your Toyota Tundra CrewMax are equipped with speakers that resemble 6×9 inch speakers. When you remove the stock speakers you will need an adapter to install aftermarket 6×9 or 6.75? / 6.5? speakers. Be sure to check out our ultra heavy duty speaker adapter that make it easy to upgrade your stock speakers.
Front Door Tweeters:
If your truck is equipped with the JBL, you will have 1? tweeters in your sail panel. We will show you how to use that for aftermarket component speakers / tweeters.
Rear Door Speakers:
The rear doors in your Toyota Tundra CrewMax are equipped with speakers that resemble 6.5 inch speakers. When you remove the stock speakers you will need an adapter to install aftermarket 6.75? or 6.5? speakers. Be sure to check out our ultra heavy duty speaker adapter that make it easy to upgrade your stock speakers.
Rear Door Tweeters:
The rear doors in your Toyota Tundra CrewMax are equipped with 1? tweeters. The stock head unit provides around 15 watts (RMS) to the rear door tweeters. We provide instructions on how to install aftermarket tweeters into the rear doors of your Toyota Tundra CrewMax.
Subwoofer:
If your truck is equipped with the JBL, you will have an 8? subwoofer behind the rear seat (driver side).
The base audio system is NOT equipped with a stock subwoofer. However, here at tacotunes.com we offer a number of subwoofer options for your 2014+ Toyota Tundra CrewMax.
The SR5 and Limited Toyota Tundra CrewMax(s) come equipped with the the basic audio system. NOTE: We have seen a small number of Limited Tundras equipped with the JBL option).
The Platinum and 1794 are equipped with the upgraded JBL audios system. However, if you take a look at our customer gallery, you will see the most of our customers that select our high-end audio solutions are Platinum and 1794 edition Tundras.
The easiest way to decipher if you have the JBL upgraded system is to check the head unit (stereo). It will say JBL, in addition . . look behind the driver side rear seat (lift up rear seat) – the JBL equipped Tundra's have a stock subwoofer. If your head unit does not say JBL OR if you don't have a subwoofer, you do NOT have a JBL unit.
Many people are confused by the amplifier under the passenger seat.
Click Here to see Pictures of Stock JBL Speakers, Tweeters & Subwoofer
Toyota Tundra CrewMax JBL Head Unit
Stock Amplifier:
The base audio system is equipped with an amp under the passenger seat. This amp creates a lot of confusion with our customers. They see the amp and assume they have a JBL equipped Tundra. However, this amps is merely a remote power source for the Front & Rear door speakers. The dash speakers and rear door tweeters are powered by the stock head unit (stereo). The stock amplifier provides around 18 watts RMS to each door speaker.
Upgrade Options:
The most common upgrade that our younger customer base likes to do is add a subwoofer to their stock system. Older Tundra CrewMax owners tend to lean towards a more balanced system. Regardless of your sound system goals, we provide a number of different options.
To assist you in upgrading your audio system we offer a number of turnkey audio upgrade solutions.
options based on your budget. Or if you would like to build your own system, we offer the parts, adapters and harnesses you will need to perform the upgrade.
More often than not, our customers tell us, I should have just one with one of your suggested systems. I was trying to cut corners and save some money and ended up missing a lot of necessary items. Our packaged systems include a number of accessories that you will not find available online. Many of the parts used in our installation videos and pictures are manufactured in-house.
Example Installation Videos
Below you will see a few of our many installation videos. There are a number of products we offer with video specific information. Those products will have link to their installation videos. This section will contain basic installation information.
TOYOTA TUNDRA CREWMAX DOUBLE CAB AUDIO PRODUCTS: