Alpine Speakers that fit Toyota Tundra
Alpine Speakers that we have test fit to ensure proper fitment in your Toyota Tundra
Below is a list of Alpine speakers that fit Toyota Tundra based on customer feedback and field tests. If the speakers you are considering purchasing are not in the list below, please take time to review some important factors in choosing speakers that will work in your Toyota Tundra. Proper fitment and and power selection are of extreme importance.
First and foremost in selecting speakers for your Toyota Tundra is to ensue they will fit. The Double Cab, Crewmax & Regular cab, come stock with 6×9 speakers in the front doors. tacotunes.com provides custom designed speaker mounts that allow you to install after market speakers into your Toyota Tundra. With our kits you can easily install 6×9, 6.5 or 6.75 coaxial and component speakers. The max mounting depth is approximately 2.95″ of top mount depth (TMD) in the Toyota Tundra TMD is the the speaker's mounting depth when it's installed as a top-mount. Your Toyota Tundra will need 2.95″ clearance in order for the speaker to fit properly. As listed below, your speaker manufacture will provide the TMD required for each model speaker.
If I had a dollar for every time a potential customer contacted me to say "my head unit will output 50 watts, what speakers should I get?", we would not need to sell any products 🙂 First off, most manufacturers will advertise MAX ratings. These MAX ratings have no bearing the real wattage the speakers can handle. You will want to pay attention to RMS or nominal ratings.
NOTE: Consider purchasing our pre-packaged bundles to make installing after market speakers quick and easy!
Alpine Component Speakers and tweeters that fit your Toyota Tacoma.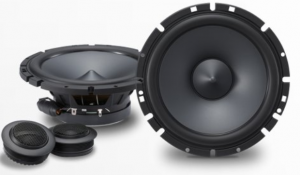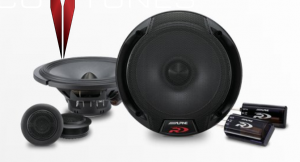 Click here for instructions on how to Install Alpine SPS110 Tweeters n your Toyota Tundra
Alpine 6.5″ Coaxial Speakers and tweeters that fit your Toyota Tacoma:
Alpine 6.5″ & 6.75″ Coaxial Speakers that fit Toyota Tundra
[table]Brand / Model,Cutout Diameter,Top-Mount Depth,Tweeter Design,RMS Power Handling,Sensitivity,Woofer Composition,Woofer Surround,Frequency Response,Impedance
Alpine SPS-610,"5″"","2-1/4″"",Dome,80 watts,88 dB,Polymer/Mica Composite,Butyl Rubber,"70 – 22,000 Hz",4 ohms
Alpine SPR-60,"5-5/16″"","2-3/8″"",Dome,100 watts,88 dB,Hybrid Layered Pulp,Santoprene Rubber,"65 – 28,000 Hz",4 ohms
Alpine SPR-17C,"5-3/8″"","2-5/16″" (59mm)",Dome,100 watts,87 dB,Hybrid layered-pulp,Rubber,65 – 27000 Hz,4 ohms
Alpine SPE-6000,N/A,"2-3/8″"",Dome,60 watts,88.5 dB,Polypropylene,Rubber,"68 – 20,000 Hz",4 ohms
Alpine SXE-1725S,"5-1/2″"","1-1/8″"",Dome,40 watts,92 dB,Pressed Pulp Fiber,Poly-Foam,60 – 20000 Hz,4 ohms[/table]
Alpine 6×9 speakers that fit Toyota Tundra
Below we have compiled a list of 6×9 speakers that will fit in your Toyota Tundra
[table]Brand / Model,Top-Mount Depth,RMS Power Handling,Sensitivity,Tweeter Composition,Woofer Composition,Woofer Surround,,Frequency Response,Impedance
Alpine SPE-6090,"3″"",75 watts,91 dB,Silk,Polypropylene,Rubber,,"65 – 18,000 Hz",4 ohms
Alpine SPR-69,"2-7/8″"",100 watts,90 dB,Silk,Hybrid Layered Pulp,Santoprene Rubber,,"60 – 28,000 Hz",4 ohms
Alpine SPS-619,"3″"",85 watts,90 dB,Silk,Polymer/Mica Composite,Butyl Rubber,,"65 – 23,000 Hz",4 ohms
Alpine SPR-69C,"3″"",100 watts,89 dB,Silk,Hybrid Layered Pulp,Rubber,,60 – 27000 Hz,4 ohms
[/table]
NOTE: You will need an extra spacer for speakers over 2.95″ TMD
Feel The Sound
The Type-R's class-leading excursion and stable structure offers real-world reduction in power compression. This provides increased bass performance output, as well as a consistent, clean, and distortion-free sound at nearly any listening level. The woofer cone is made of a multi-layered hybrid fiber that delivers powerful and uncolored vocal performance and musicality. These speakers perform with clarity and almost perfect balance under continuous power demands.
Small is Better
The new smaller Neodymium Magnet on the Type-R series allows the total speaker dimensions to be smaller. Not only do you get better performance and control, the compact size makes them easier to install in a wider variety of vehicles. Plus, they are much lighter than typical designs using standard magnet technology.
HD Polymer Frame
Traditional speaker frame designs rely on steel making them larger and heavier. The new Type-R series uses a revolutionary HD Polymer frame making the speaker stronger, lighter, and easier to install.
Awesome Power Handling
The Type-R series continues its legendary reputation for power handling capabilities. One reason is Alpine's patented Linear Drive Motor. It uses a square-wire voice coil that is a large 30mm diameter, driven by a small, powerful neodymium magnet. This unique design provides linear motion over an extremely wide excursion, efficiently turning your amplifier's power into great sound. At high volumes, when other speakers give up, Type-R's Linear Drive Motor keeps on producing high quality output.
High-Impact Bass Performance
Type-R speakers use Alpine's patent pending Multi roll HAMR surround, a technology developed for many of Alpine's legendary subwoofer designs. At higher volume levels, a speaker's suspension system typically loses control and becomes unstable. Alpine's HAMR Surround combines both large cone area and long linear cone excursion for deep, powerful bass response.
High Performance Tweeter
The Type-R tweeter is an entirely new design that provides crisp, smooth response engineered for the car environment. The 25mm diameter silk dome offers wide bandwidth and tremendous detail. Alpine's new EQ Ring improves the tweeter's dispersion characteristics, providing excellent off-axis response. The motor structure incorporates a special copper cap to minimize distortion and enhance vocal presence. You have to hear to believe how great these tweeters sound. Plus, you can swivel the tweeter up to 15 degrees to provide advanced custom sound tuning and directional control by focusing sound where it should be, not pointed at your feet.
High Efficiency
The new Type-R line not only handles a lot of power, but it's also very efficient, making it the perfect match for built-in head unit power, the KTP-445 Power Pack, or a high-powered component amplifier like the MRX or PDX series.
Assorted Sizes, Versatile Upgrade
With six models in the Type-S line-up, you'll find a speaker size to fit your car's needs – and an ideal replacement for factory speakers. A shallow mounting design allows for easy installation in a wide range of door panels giving you a perfect fit. Their high-efficiency design can run off of the built-in amplifier power from the factory or Alpine head unit, resulting in an easy system improvement for any vehicle.
Packing a Punch
Turn up the volume. These speakers deliver amazing lows, mids, and highs. Become a believer once you hear the difference between stock and Alpine sound quality. Upgrade your system and hear what you've been missing.
Silk Dome Swivel Tweeters
The Type-S speakers also use an HD polymer frame for improved sound and installation, while a high-performance soft dome tweeter provides smooth, detailed sound. The tweeters can swivel up to 10 degrees so you can adjust for the optimum listening position.
Impressive Cosmetics
Not only do the Type-S speakers sound great, they look great too. These speakers will look good behind factory grilles or can be used with the new hybrid mess grilles (sold separately) for a customized look.