Description
Toyota Tundra

6.5″ 6.75″ Heavy Duty Speaker Adapter Installation Kit (Rear Door)

If you are planning to install 6.5 or 6.75″ speakers in the rear doors of your Toyota Tundra these mounts will make it quick and easy. These are the best mounts you can buy for your Toyota Tundra These mounts are CNC milled from a solid piece of plastic for an ultra heavy duty product that will not vibrate at high volume. They are built to last just like your Toyota Tundra.

The rear door mounts are .75″ thick and support a top mount depth of 3.0″. Be sure to review the video below for more information.

If you are on a tight budget we offer a lesser priced alternative:

Toyota Tundra 6.5 6.75 Budget Friendly Speaker Adapter Installation Kit (tacotunes.com)
This kit offers discounted pricing on the following items:
2 – Rear 6.5″ speaker mounts (Driver & Passenger Side) – this is a pair of rear door speaker mounts
Custom Sizing:
Approximately 80% of 6.5″ speakers will work with 5.1″ default size. However, it is best to check the owner's manual. Most speaker manufactures will provide the "cutout size" required for your speakers. 6.75″ speakers have a larger cutout around 5.4″ to 5.7″. We offer custom sizing from 5.1-6.0
This kit includes the following:
2 – Rear 6.5″ speaker mounts (Driver & Passenger Side) – this is a pair of speaker mounts.
Speaker Wire Harness Kit: (Optional)
If you are planning to power your speakers with the stock wiring (using the stereo to power the speakers), you will want to add the speaker wire harness adapter kit to your order. This kit will allow you to plug into the the factory wiring without any cutting of splicing AND will make it much easier to return your Toyota Tundra back to factory if you ever trade in or sell. If you are planning to install an amplifier, you will be running heavier gauge speaker wire to your speakers so you will NOT need wire harnesses.
Longer Bolt Kit: (Optional)
The heavy duty mounts are thicker than the factory speakers. You will need longer bolts to attach the mounts to your Toyota Tundra These 10mm metric bolts / screws are not available in local hardware stores. Some customers have purchased larger screws at their local hardware store and were able to make them work. You might be able to save a few dollars if you can find a similar size that is not metric. We also include screws to mount your new aftermarket speakers to the speaker adapters. If you are not going to purchase the bolt kit, but sure you are not using screws that are to big.
What speakers will fit?
This kit will work with 99% of all 6.5 6.75 inch speakers. The rear door speaker mounts are .75 thick and support a top mount depth of 3 inches. Please be sure to review the videos to make sure you are ordering the correct size.
Thank you for taking the time to check out our products for your Toyota Tundra. We sincerely appreciate the opportunity to do business with you!
Warranty:
1 year if purchased without bolt / screw kit.
10 years if you purchase the bolt / screw kit.
2007 – 2013
[youtube https://www.youtube.com/watch?v=enGtfpaeQBE]
2014+
[youtube https://www.youtube.com/watch?v=WhyE355Amzc]
Step by step picture installation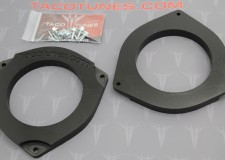 Proudly made in the US! Support American Jobs!