Description
2010-2020 Toyota 4Runner Tweeter Speaker Wiring Harness Adapter Connector (Pair)
tacotunes.com Toyota 4Runner Tweeter Speaker Wiring Harness Adapter Connectors provide a quick and easy solution to upgrading your stock speakers and tweeters. When you remove the stock tweeter in your 4Runner the front door speakers will stop working. This made upgrading your front door & dash speakers / tweeters a challenge. The vast majority of our customers do not want to cut their factory wiring. These wire harness adapters connect directly to the stock wiring harness and allow you to install aftermarket speakers without any cutting or splicing. We even provide instructional videos on how to install component speakers.
Optional:
You can also choose from optional tweeter mounting adapters. They will make installing your new tweeters fast and easy!
NOTE: 1″ mounting hole is the default size. However, tweeters rarely have a 1″ mounting hole diameter. Tweeter sizes vary GREATLY. We offer custom sizing within 1 millimeter. You can select custom sizes when placing your order.
If you need help with the tweeter diameter, contact us prior to ordering. Be sure to include / provide your brand & model of the speakers/tweeters you are planning to install in your 4Runner.
NOTE: NOT COMPATIBLE WITH FACTORY INSTALLED JBL AUDIO SYSTEMS.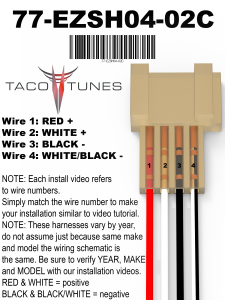 Toyota 4Runner Tweeter Dash Speaker Adapter HarnessCheck out this video on how to install new aftermarket component speakers in your Toyota 4Runner:
Toyota 4Runner Tweeter Replacement:
NOT COMPATIBLE WITH JBL EQUIPPED 4RUNNERS.