Description
2014+ Toyota Tundra CrewMax Ported Subwoofer Box w/ Kicker Comp Rt Subwoofer
NO LONGER AVAILABLE. THIS BOX HAS BEEN REPLACED WITH:
2014+ Toyota Tundra CrewMax Subwoofer Box Enclosure Unloaded
A properly tuned subwoofer box (enclosure) matched to a quality subwoofer will bring your music listening to a whole new level. Once you install a quality subwoofer in Toyota Tundra you will wonder how you lived without one. Many people equate a subwoofer with sound competitions or the neighborhood kid rolling down the street. When a subwoofer and speakers are matched to your vehicle, you will enjoy music quality like never before. Be sure to check out our turn key packages for your Toyota Tundra.
In 2014 Toyota decided to re-design the rear seats in the Toyota Tundra CrewMax. Like many Tundra owners, we were not happy with the limited seating adjustments. Additionally,  the new seating configuration made installing a full size subwoofer next to impossible – well since most folks do not want to give up any storage under the seats. After testing a number of subwoofers and box designs, we came up with a 12" ported subwoofer box that fits behind the seats of your 2014+ Toyota Tundra. Installation is quick and easy and requires just a few simple (reversible) modifications to your Tundra. The seats will return back to proper position after the installation.
This bundled installation kit includes discounted pricing on the following items:
1 – tacotunes.com 2014+ Ported Subwoofer Box 12″
1 – Kicker CompRT Shallow Mount Subwoofer in a 2 or 4 Ohm load (How to select proper subwoofer load)
1 – Mounting Bolt
1 – Mounting Plate
1 – Terminal / Wiring Cup
1 – 24″ Red 12 gauge wire
1 – 24″ Black 12 gauge wire
8 – Wood Screws (subwoofer hardware)
4 – Wood Screws (terminal cup hardware)
2 – 27″ x 27″ sheet polyfil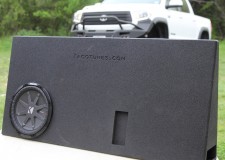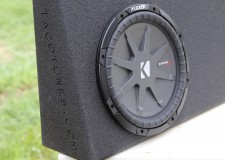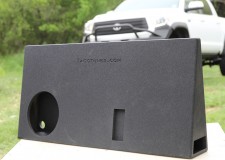 Toyota Tundra Kicker Comp RT 12 inch shallow mount subwoofer