Description
Toyota Tacoma Double Cab Subwoofer Box and 10″ Image Dynamics Subwoofer
This subwoofer box is designed to hide behind the rear, driver side seat in your Double Cab Tacoma. The box is made from ULTRA high quality MDF for best sound quality and hand built right here in the United States! Don't settle for cheap particle board boxes that you find on online auctions and many other discount sites. You will not get the sound quality you are after. We offer this subwoofer box in a variety of configurations.
We offer the box plain as seen in the pictures OR covered in spray in bed liner material.
Once the box is hand built here in the United States, we spray the MDF with a high quality polyurethane bed liner. Keep in mind the Tacoma has very little room behind the seat. You will need to remove your seat for installation. However after the installation you can put the seat back in place. Due to lack of space behind the seat, you can NOT fold the seat down as it may damage the subwoofer.
This bundled installation kit includes discounted pricing on the following items:
1 – tacotunes.com Toyota Tacoma Subwoofer Box 10″
Subwoofer Mounting Hardware  / Wiring & Terminal Cup Kit:
1 – Terminal / Wiring Cup
1 – 24″ Red 12 gauge wire
1 – 24″ Black 12 gauge wire
8 – Wood Screws (subwoofer hardware)
4 – Wood Screws (terminal cup hardware)
Subwoofer Box Mounting Hardware:
3 – 10 MM Metric Mounting Bolts
3 – Large Rubber Washers
3 – Large flat washers
Other:
1 – 27″ x 27″ sheet polyfil (4 oz) – for best results consider 3 sheets (12 oz) for this configuration.
Naked Box or Sprayed with heavy duty bedliner. (We are not authorized to use the name online. NOTE: WE are authorized to spray in Texas)
Installation Notes:
Please see the installation video for details on installing this subwoofer in your
Toyota Tacoma Double Cab.
Remove the upper rear seat section (driver side)
Remove plastic backing on rear of upper seat seat section.
Remove the storage compartment on rear wall (driver side only)
Connect subwoofer wiring to terminal cup and install the subwoofer box.
Bolt down the box. Be certain to use the rubber sealing washers.
Install your subwoofer.
Install your seat upper.
Save all your parts so you can return the truck back to stock in the even you sale or trade your double cab Tacoma.
2016 and up Double Cab Tacoma, you will need to roll up the matting on rear wall and tuck behind storage compartment.
You will NOT be able to fold the seat down after you install the subwoofer. The passenger side will still operate as designed.
We highly suggest the use of a matting material.
Please note when requesting bedliner, it takes two extra days before we ship.
Image Dynamics Subwoofer ID10D4V4 Toyota Tacoma Double Cab
Toyota Tacoma Double Cab Image Dynamics Subwoofer ID10D2V4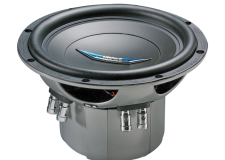 48 States US Shipping only. HI, AK, PR and Canada email for shipping costs.