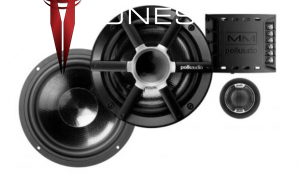 Polk Audio MM6501 Component Speakers
Toyota 4Runner

Polk Audio MM6501 Component Speakers

To install Polk Audio MM6501 Component Speakers into your Toyota 4Runner, you will want to use tacotunes.com speaker adapters designed to work in your 4Runner. The Polk Audio MM6501 Component Speakers require a 5.1″ cutout diameter for the mid range speakers. The Polk Audio MM6501 Component Speakers tweeters will require a 1.945″ cutout diameter.


The Polk Audio MM6501 Component Speakers will fit you your Toyota 4Runner without any cutting, drilling or modifying your 4Runner.

Summary:

Mid range Driver: 5.1″ cutout diameter

Tweeter: 1.945″ cutout diameter

Top Mount Depth: 2 5/8″

Polk Audio MM6501 Component Speaker Manual Toyota 4Runner

These speakers have been test fit to work in the front doors Toyota Tacoma 2005 2006 2007 2008 2009 2010 2011 2012 2013 2014



Designed to Perform
Our flagship MM component system, the MM6501 is the result of 3 years of Polk research and development. The MM6501 has been designed to offer unparalleled sound quality with exceptional fit to meet virtually any application. Borrowing technology from our flagship SR Series, the MM6501 offers extraordinary performance at a price that's too good to believe.
MM6501 Features:
Dynamic Balance® driver technology for pure, distortion free sound.
Neodymium is a rare earth material we use in all MM driver magnets, excluding 461P, that are about 1/10 the weight of a comparable ceramic magnet and much more powerful. The smaller magnet means the MM6501 components fit easily into more applications.
Carbon composite basket based on the spokes of a wheel is lightweight, absolutely will not flex during peaks and looks great.
Woven glass composite cones feature tremendous stiffness-to mass ratio. Lower mass means faster transients and finer detail.
Klippel optimized components for consistent, distortion-free sound.
Marine Certified ensures the MM6501 is built tough to withstand the harshest environments on the water.
Large-diameter voice coil (30mm) in driver increases reliability and power handling.
Wheel-inspired style combines with rugged durability in the MM grille.
Multiple mount tweeters allow surface or flush mounting.
All Polk products are made using the best materials and the most advanced manufacturing techniques. They pass the industry's most exhaustive quality tests, including drop testing, extreme signal response and UV & salt exposure testing. Polk loudspeakers are built to perform for a lifetime.
Tools required to for basic speaker installation:
If you will be performing a basic installation where you will power the speakers from your head unit, you will need the following tools:
1 – Small slotted head screwdriver
1 – # 2 Phillips head screwdriver
1 – 10mm socket & ratchet
Tools required for advanced speaker installation:
If you will be performing and advanced installation where you will be powering the speakers with a high power amplifier AND running new speaker wire you will need the following tools:
1 – wire strippers
1 – wire crimpers
1 – small zip ties
1 – speaker quick disconnects
Be sure to watch our videos. They will answer most of your questions or concerns regarding speaker installation.