2015 Toyota Camry stereo overview and complete audio upgrade speakers tweeters and subwoofer installation
These instructions will work on 2012 2013 2014 2015 2016 Toyota Camry's with the base audio package. These instructions nor the products used in the installation process are designed to work with Toyota Camry's equipped with Toyota's OEM JBL upgraded audio system.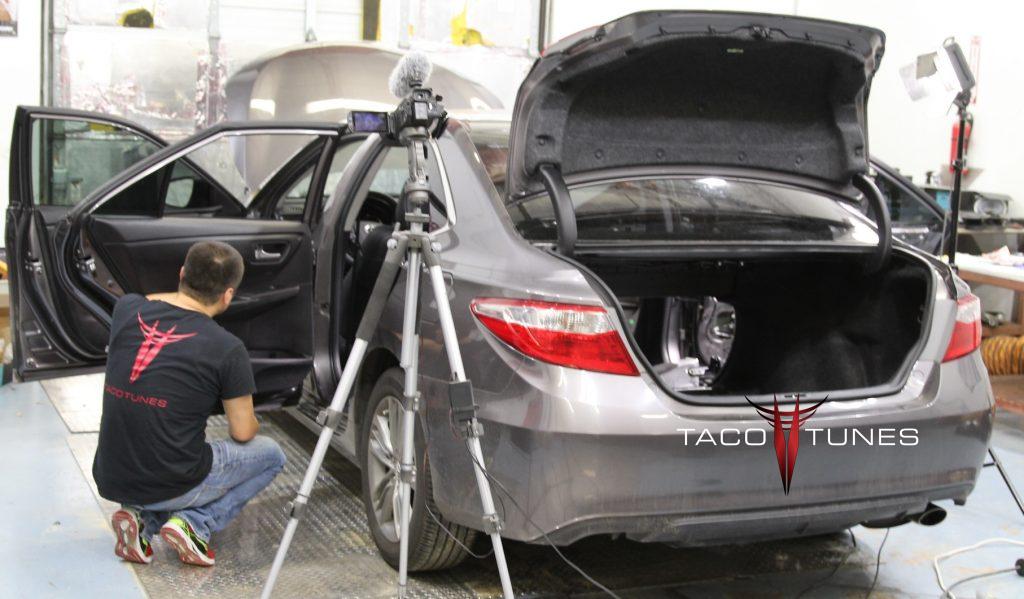 Below you will find detailed instructions on  how to install / upgrade your stock speakers & tweeters. We will take you through a complete audio upgrade of this 2015 Toyota Camry LE. WE will also be adding amplifiers to the stock head unit (stereo) using our Plug & Play amplifiers designed for your Toyota Camry.
Front Door Speaker Upgrade:
We installed Image Dynamics CTX65CS / ID65CS component speakers.
Dash Tweeter Upgrade
We installed the Image Dyanmics CTX65CS / ID65CS Tweeters in the dash location
Rear Speaker Upgrade:
We installed Image Dynamics 6×9 CTX69 Coaxial speakers
Subwoofer Upgrade:
Installed 2 10″ Image Dynamics ID10v4 Dual Voice Coil subwoofers in a ported down-fire subwoofer box.
Head Unit Power Upgrade:
We installed tacotunes.com plug and play 4 channel amplifier for the door / rear speakers AND 1 channel (mon0) subwoofer amplifier.
Stock Stereo System Overview:
This vehicle came equipped with six speakers and (two front door speakers, two rear door speakers & two in dash speakers / tweeters)
Stock OEM Front Door Speaker Picture:
Right / Left Front Stock Speakers:
Manufacturer: Toyota
Part Number: 86160-06390
Part: FRONT DR SPEAKER, RIGHT
Part Notes: W/O JBL AUDIO
Stock OEM Rear Tray Dash Speakers:
Manufacturer: Toyota
Part Number: 86160-06450
Part: PKG TRAY SPEAKER
Part Notes: W/O JBL AUDIO
Stock OEM Tweeter Picture:
Manufacturer: Toyota
Part Number: 86160-06380
Part: TWEETER
Part Notes: W/O JBL AUDIO
Some Installation Pictures: