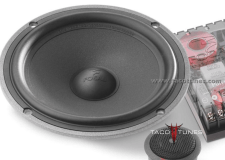 Focal Integration 165 VRS Component Speakers
Toyota Camry

Focal Integration 165 VRS Component Speakers

To install Focal Integration 165 VRS Component Speakers into your Toyota Camry, you will want to use tacotunes.com speaker adapters designed to work in your Camry. TheFocal Integration 165 VRS Component Speakers require a 5.6" cutout diameter for the mid range speakers. The Focal Integration 165 VRS Component Speakers tweeters will require a 1.83″ cutout diameter.


The Focal Integration 165 VRS Component Speakers will fit you your Toyota Camry without any cutting, drilling or modifying your Camry.

Summary:

Mid range Driver: 5.6″ cutout diameter

Tweeter: 1.83″ cutout diameter

Top Mount Depth: 2 – 1/4″

Focal Integration 165 VRS Component Speaker Manual Toyota Camry

These speakers have been test fit to work in the front doors Toyota Tacoma 2005 2006 2007 2008 2009 2010 2011 2012 2013 2014



Highlights:
6-3/4″ component speaker system (includes 2 woofers, 2 tweeters, 2 crossover networks, and hardware)
shallow-mount Polyglass woofer with butyl rubber surround
non-resonant zamak (zinc alloy) basket
aluminum/magnesium inverted dome tweeter
outboard crossover with 3-level tweeter control
grilles included
6-60 watts RMS power range (120 watts peak)
frequency response: 70-28,000 Hz
sensitivity: 93 dB
depth: 2-1/4″
warranty: 1 year
Integration
You have a car and you enjoy listening to music. We've got what you need: the systems of the Integration line. Easy and quick to install, you can even do it yourself, easily replace your original system and these speakers will give you the best Focal sound.