JL Audio ZR100 CT Tweeters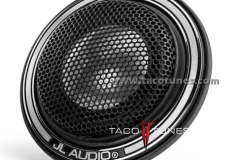 JL Audio ZR100 CT Tweeters
How to install JL Audio ZR100 CT Tweeters in your Toyota Camry
When you order these tweeter mounts from our site for your JL Audio ZR100 CT Tweeters, you will want to specify a custom size cutout @ 1.75″ cutout. We custom size the tweeter mount to fit your tweeter. Please keep in mind tweeters come in MANY different sizes. Please be sure to include the cutout diameter in the order notes.
Cutout Diameter: 1.75″
ZR100-CT
1-inch (25 mm) Component Tweeter, In-Line High-Pass Filters Included
Our reference quality ZR component speakers are made for those seeking the highest possible levels of audio performance and are the pinnacle of the JL Audio component speaker lineup.
The ZR100-CT component tweeters feature 1-inch aluminum domes with rubber-roll suspensions that damp unwanted ringing while delivering spectacular high-frequency extension. They provide extremely balanced high-frequency reproduction from 4 – 25 kHz. A flush-mounting fixture with a classy electro-formed ring provides a sophisticated touch in any installation.
Tweeter kit includes two tweeters with grilles and two mounting fixtures. Inline 12 dB / octave high-pass filters with tweeter protectors are also included with this kit. The ZR100-CT is designed to operate above 4 kHz with a minimum high-pass slope of 12 dB / octave.
When nothing but the best will do, choose ZR.
Sonic character: Accurate and detailed
Made in Germany, Sold as a pair.
| | |
| --- | --- |
| Continuous Power Handling (RMS)* | 85 W |
| Peak Music Power* | 225 W |
| Recommended RMS Amplifier Power (per Ch.)* | 25 – 175 W |
| System Efficiency | 90.5 dB @ 1 W / 1 m1 W / 1 m |
| System Nominal Impedance | 8 Ω |
| System Frequency Response | 4 kHz – 25 KHz ± 3 dB |