JBL GTO18T Tweeters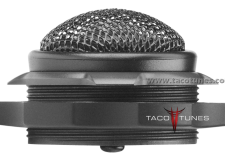 JBL GTO18T Tweeters
How to install JBL GTO18T Tweeters in your Toyota FJ Cruiser
When you order these tweeter mounts from our site for your JBL GTO18T Tweeters, you will want to specify a custom size cutout @ 1.875″ cutout. We custom size the tweeter mount to fit your tweeter. Please keep in mind tweeters come in MANY different sizes. Please be sure to include the cutout diameter in the order notes.
JBL GTO18T Tweeters Toyota FJ Cruiser
The perfect tweeter to optimize your vehicle's stereo image
Need to tune up your system and add some highs? The GTO18T is the perfect solution. It's a 1″ (25mm) edge-driven My-Ti™ tweeter with I-Mount™ tweeter-mounting system. My-Ti (Mylar®/titanium composite) tweeters are stiff, light and extremely efficient. The well-thought-out I-Mount system allows for easy and versatile installation of the GTO18T. The GTO18T tweeter also features JBL's proprietary Starfish™ tweeter mount, which allows the tweeter to be installed in a variety of factory locations.
Tweeter Specifications
Tweeter Size 1″ Tweeter Design Dome Tweeter Composition Mylar/Titanium Hybrid Flush Mount Yes Surface Mount Yes Angled Mount Yes Peak Power Handling 150 watts RMS Power Handling 50 watts Sensitivity 92 dB Frequency Response 2,500 – 21,000 Hz Impedance (Per Voice Coil) 2 ohms Top-Mount Depth 1″ Cutout Dimensions 1-3/4″ x 1-3/4″
1″ Grand Touring Series Car Tweeter
Power Handling:
Peak: 300 watts per pair / 150 watts each
RMS: 100 watts per pair / 50 watts each
Mylar/titanium composite dome tweeters
I-Mount for simple and versatile installation
Starfish tweeter mount allows the tweeter to be installed in a variety of factory locations
Frequency response: 2,500-21,000 Hz
2 ohms impedance
Sensitivity: 92 dB
Cut-out diameter: 1-3/4″
Top-mount depth: 1″