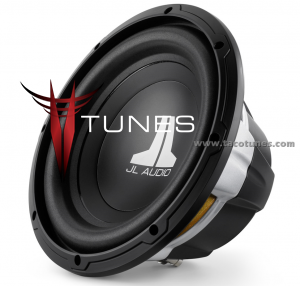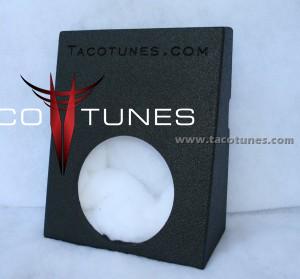 JL Audio 10W0 10 inch Subwoofer
Toyota FJ Cruiser

JL Audio 10W0 10 inch Subwoofer

To install JL Audio 10W0 10 inch Subwoofer will fit Toyota FJ Cruiser, you will want to use tacotunes.com subwoofer box enclosure designed to work in your FJ Cruiser Double Cab. The JL Audio 10W0 10 inch Subwoofer 9.1" cutout diameter for the subwoofer.


The JL Audio 10W0 10 inch Subwoofer will fit you your Toyota FJ Cruiser without any cutting, drilling or modifying your FJ Cruiser.

NOTE: To avoid cutting plastic storage bins you will need to remove them. If you want to have a custom fit look, you will want to use the following instructions that require cutting and modifying parts of your Toyota FJ Cruiser Double Cab.

Summary:

Subwoofer : 9.1″ cutout diameter

Top Mount Depth: 5″

JL Audio W0 10 Inch Subwoofer Toyota FJ Cruiser

MAX RMS Rating: 300 Watts
| | |
| --- | --- |
| Nominal Diameter | 10.0 in / 250 mm |
| Overall Diameter (A) | 10.52 in / 267 mm |
| Mounting Hole Diameter (B) | 9.0625 in / 230 mm |
| Bolt Hole Circle (C) | 9.7 in / 246.5 mm |
| Magnet Diameter (D) | 5.05 in / 128 mm |
| Mounting Depth (E) | 4.90 in / 124 mm |
| Driver Displacement | 0.034 cu ft / 0.96 L |
| Net Weight | 7.50 lb / 3.40 kg |
| | |
| --- | --- |
| Free Air Resonance (Fs) | 32.09 Hz |
| Electrical "Q" (Qes) | 0.64 |
| Mechanical "Q" (Qms) | 10.752 |
| Total Speaker "Q" (Qts) | 0.604 |
| Equivalent Compliance (Vas) | 1.095 cu ft / 31.01 L |
| One-Way Linear Excursion (Xmax)* | 0.45 in / 11.4 mm |
| Reference Efficiency (no) | 0.15% |
| Efficiency (1 W / 1 m)** | 84.07 dB SPL |
| Effective Piston Area (Sd) | 48.909 sq in / 0.0316 sq m |
| DC Resistance (Re) | 4.280 Ω |
* Xmax specifications are derived via one-way voice coil overhang method with no correction factors applied. ** Efficiency (1 W / 1 m) is not an accurate indicator of a subwoofer's output capability and should not be used as a comparison to other subwoofers to determine which one is "louder".
| | |
| --- | --- |
| Wall Thickness | 0.75 in / 19 mm |
| Front Baffle Thickness | 0.75 in / 19 mm |
| Volume (net int.) | 0.65 cu ft / 18.41 L |
| External Width (W) | 18 in / 457 mm |
| External Height (H) | 11 in / 279 mm |
| External Depth (D) | 9 in / 229 mm |
| F3 | 42.4 Hz |
| Fc | 53.23 Hz |
| Qtc | 1.002 |
Enclosure Notes* The enclosure recommendations listed above are external dimensions which assume the use of 0.75 in (19 mm) thick material. If you are using 0.625 in (16 mm) thick material, subtract 0.25 in (6.5 mm) from each dimension. Do not use any material with a thickness of less than 0.625 in (16 mm) as this may compromise the rigidity of the enclosure. * All enclosure volumes listed above are net internal volumes! Driver displacement, port displacement and brace displacement must be added to obtain the final gross internal volume. All enclosure dimensions above have already taken this into account. * When using multiple subwoofers in a common enclosure you will need to recalculate the enclosure and port dimensions. For assistance please contact your authorized JL Audio dealer or JL Audio Technical Support. * We recommend the use of this speaker in a bi-amplified system using high-quality satellite speakers and a high-quality amplifier. We do not recommend the use of this subwoofer with a passive crossover (coil), as this type of device will adversely affect performance. * All specifications are subject to change without notice.
Prolonged exposure to sound pressure levels in excess of 100dB can cause permanent hearing loss. This high-performance speaker can exceed this level. Please exercise restraint in its operation in order to preserve your ability to enjoy its fidelity.
When installing a subwoofer in your vehicle, it is extremely important to secure the enclosure firmly. We recommend bolting the enclosure through the metal of the floorpan or the frame of the vehicle with large diameter washers for reinforcement. If an enclosure is not firmly attached, it can become a projectile in a collision. This is particularly important in a hatchback, station wagon, sports utility vehicle, or van.