Polk Audio DB1001 Tweeters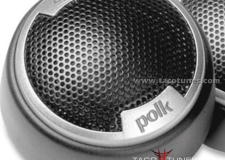 Polk Audio DB1001 Tweeters
How to install Polk Audio DB1001 Tweeters in your Toyota FJ Cruiser
When you order these tweeter mounts from our site for your Polk Audio DB1001 Tweeters, you will want to specify a custom size cutout @ 2.0″ cutout. We custom size the tweeter mount to fit your tweeter. Please keep in mind tweeters come in MANY different sizes. Please be sure to include the cutout diameter in the order notes.
Polk Audio DB1001 Tweeters Toyota FJ Cruiser
The perfect tweeter to optimize your vehicle's stereo image
Need to tune up your system and add some highs? The Polk Audio DB1001 Tweeters is the perfect solution. With tacotunes.com tweeter mount, which allows the tweeter to be installed in the factory location.
Tweeter Specifications
1″ liquid-cooled silk/polymer dome tweeter (pair)
Neodymium magnet
in-line 12 db/octave passive crossover
electronic tweeter protection circuit
flush- and surface-mount swivel cups
stainless steel mounting hardware
power range: 6-60 watts RMS (180 watts peak power)
frequency response: 4,000-23,000 Hz
sensitivity: 92 dB
top-mount depth: 1″
warranty: 1 year