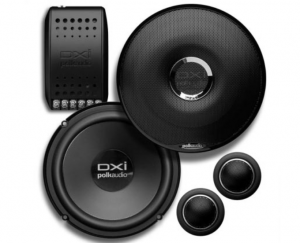 Polk Audio DXi6500 Component Speakers
Toyota FJ Cruiser

Polk Audio DXi6500 Component Speakers
To install Polk Audio DXi6500 Component Speakers into your
Toyota FJ Cruiser

you will want to use our Standard size 5.1″ cutout diameter for the mid range speakers, the tweeter will require a 1.945″ custom sized hole.

Summary:

Mid range Driver: 5.1″ cutout diameter

Tweeter : 1.945″ cutout diameter

Top Mount Depth: 2.0″

Polk Audio DXI6500 Component Speaker Manual Toyota FJ Cruiser

These speakers have been test fit to work in the front doors Toyota Tacoma 2005 2006 2007 2008 2009 2010 2011 2012 2013 2014



DXi6500 Features:
Your Ride. Our Sound.
Our flagship DXi component system, the DXi6500, has been created to offer unparalleled sound quality with exceptional fit to meet virtually any application-on land or on water. This 6 1/2-inch component system includes mid-range drivers, tweeters and crossovers.
Klippel motor optimization uses laser measurement technology to ensure a smooth excursion path at either end of the volume spectrum for uniform performance at both low and high volumes.
Polk's proprietary, patented Dynamic Balance® technology allows our engineers to design out distortion-causing driver and system resonances, so you only hear the good sounds.
Composite cones feature tremendous stiffness-to-mass ratio. Lower mass means faster transients and finer detail.
1-inch liquid-cooled silk/polymer composite dome tweeter for clear, detailed highs.
2nd-order Butterworth outboard crossover for component system sound-at a coaxial price.
Flush & surface swivel mount cups are supplied for easy install flexibility.
Vented crossover housing gives you a choice of hidden wire channels for easier, more professional looking installs.
Electronic tweeter protection circuit protects your tweeters from abuse for reliable high output sound.
Marine Certified ensures the DXi6500 is built tough to withstand the harshest environments on the water.
All Polk products are made using the best materials and the most advanced manufacturing techniques. They pass the industry's most exhaustive quality tests, including drop testing, extreme signal response and UV & salt exposure testing. Polk loudspeakers are built to perform for a lifetime.
Driver Complement

Tweeter
Quantity
2
Diameter
1″ (2.54cm)
Type
Silk polymer dome
Mid / Woofer
Quantity
2
Diameter
6 1/2″ (16.51cm)
Type
Dynamic Balance driver with composite cone driver
Electrical

Total Frequency Response
35Hz-23kHz
Nominal Impedance
4 ohms
Efficiency
92 dB
Power Handling
Continuous
100 watts
Peak
300 watts
Dimensions

Cut-Out Diameter
5″ (12.70cm)
Tweeter Cut-Out Diameter
2 1/16″ (5.24cm)
Grille
Height
15/16″ (2.38cm)
Full-Range Mounting Depth
Top Mount
2″ (5.08cm)
Bottom Mount
2 1/4″ (5.71cm)
Tweeter Mounting Depth
Flush Mount Depth
7/8″ (2.22cm)
Surface Mount Height
1 1/8″ (2.86cm)
Shipping

Unit of Measure
system
Warranty

Speaker Warranty
1 year parts and labor (original purchaser)