Selecting wheels an tires for an older style Toyota Tacoma Double Cab (Gen 1) vehicle was a bit tougher. If you have seen our other builds, you are aware that we generally pick more modern style wheels. However, this 2003 Toyota Tacoma Double Cab was over 11 years old at the time of this build . . . so we wanted wheels that would match the era with a nice look a feel. There were a few challenges. Originally we had Falken Rocky Mountain ATS. We decided to add a few inches to the suspension.
The stock wheels were 16×7 the bolt pattern is 6×5.5 (6×139.7 metric) From what we were informed the offset is 15MM or 4.84″ backspace.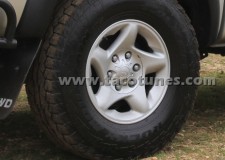 After doing a little homework we decided to upgrade the stock wheels and tires to 285/70/17. Initially we were going to use FJ Cruiser wheels.