Will Rockford Fosgate T1692 Rockford T165 fit Toyota Tundra
Leonard:
According to the specs below (taken from RF website), those 6x9s are WAY to deep to fit in your Tundra's front doors. We don't recommend going over 3.15″ top mount depth. The Rockford T165 will work fine in the read door of your Toyota Tundra.
While it is possible to use more spacers to gain additional top mount depth you will be faced with a second problem. The speakers will get to close or touch the door panel. This will damage the speakers. Per our speaker guidelines for a Tundra you should look for speakers that are below3″ top mount depth. Have you considered our Image Dynamics CTX6x9 bundle? WE have a lot of happy Tundra owners with this setup.
Check us out at:
Friend us on Facebook:http://www.facebook.com/tacotunes
Website: https://tacotunes.com
Add us a friend on Facebook:http://www.facebook.com/tacotunes
YouTube:http://www.youtube.com/tacotunes
Follow Us on Twitter: http://twitter.com/tacotunes
Pictures: https://www.tacotunes.com/pictures
Blog: https://www.tacotunes.com/blog
—–Original Message—–
From: [email protected] [mailto:@yahoo.com]
Sent: Friday, June 28, 2013 8:30 AM
To: [email protected]
Subject: Contact Us Requested
You have received a contact request from a visitor to your storefront at http://shop.tacotunes.com:
E-mail Address: xx@yahoo.com
Name: Leonard
Company:
Phone Number:
Request:
I have a 2011 tundra crewmax and I'm putting in Rockford Fosgate T1692, 6×9 in the front and Rockford T165, 6.5 in the rear. What kit would I need for all four speakers?
Thank you,
The Quick Shopping Cart Team
T1692
Get Power series sound quality in a drop-in speaker. These full-range speakers inherent all the coolest features from their big brother component systems. Be prepared, these are more than OEM replacement speakers, their sound quality has been perfected for true Rockford Fosgate fanatics!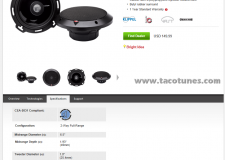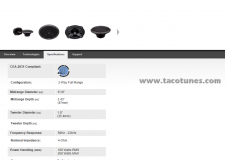 | | |
| --- | --- |
| CEA-2031 Compliant: | |
| | |
| --- | --- |
| Configuration: | 2-Way Full-Range |
| | |
| --- | --- |
| Midrange Diameter (in): | 6″x9″ |
| | |
| --- | --- |
| Midrange Depth (in): | 3.43″ (87mm) |
| | |
| --- | --- |
| Tweeter Diameter (in): | 1.0″ (25.4mm) |
| | |
| --- | --- |
| Frequency Response: | 50Hz – 22kHz |
| | |
| --- | --- |
| Power Handling (RMS): | 100 Watts RMS 200 Watts MAX |
| | |
| --- | --- |
| Crossover: | Built-in tweeter crossover High-Pass (HP): 12dB/octave Butterworth |
| | |
| --- | --- |
| Sensitivity (dB @ 1 watt/1 meter): | 90dB |
| | |
| --- | --- |
| Shipping Weight: | 12.6 Lbs. (5.72 Kg.) |