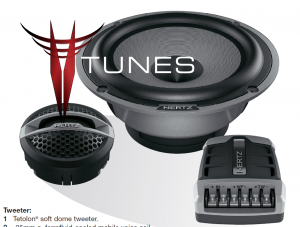 Reply from tacotunes.com:
You will want to order: https://tacotunes.com/shop
According to the manual Hertz Hi Energy HSK165 Component Speakers Manual Toyota Tacoma you will need to spec a 5.8 inch coutout for the mid range driver & 1.614 cutout diamter for your tweeters. You can order the tweeters for your tacoma here @
Please be sure to put size above in the order notes.
Customer info removed by request.
1
Tetolon® soft dome tweeter.
2
25mm ø, ferrofluid-cooled mobile voice coil.
3
High energy Neodymium magnet.
4
Rear acoustic chamber.
5
Revolving support and accessories for factory location and flush mounting.
6
Very flexible, high current input cable.
Woofer:
1
Soft iron plates for high heat dissipation, part of the symmetrical magnetic flux motor.
2
Over-sized magnet; provides outstanding energy for maximum control.
3
Pure copper voice coil wound on a KSV former; for excellent thermal and mechanical
capability.
4
Vented bottom plate; improves linearity and thermal dissipation.
5
Damped Mesh Fibre Cone; for extended bandwidth and smooth response.
6
V-cone®; for the best off-axis dispersion and mid-high frequency detail.
7
Anti-vibration rubber magnet cover; damps spurious vibrations.
8
Aerodynamic die-cast aluminium basket; eliminating rear wave reflections.
9
Radial Venting System; for efficient thermal management.
10
Loss-less Polymer Rubber Surround; for long throw and maximum damping