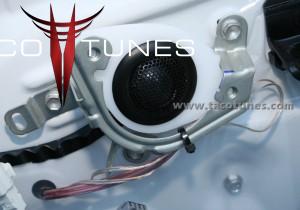 How to install tweeters in to your Toyota Tacoma
If you are wondering, How to install tweeters in to your Toyota Tacoma, you have come to the right place!
2016+ Toyota Tacoma
2005-2015 Toyota Tacoma
If you are considering installing aftermarket tweeters in your Toyota Tacoma, please take a few minutes and review the information below. I am fairly certain all your questions will be answered. This page was composed in an effort to answer the MANY questions and concerns we receive regarding tweeters installation in your Toyota Tacoma.
Tweeter Installation FAQ:
Q: How do I install tweeters in my Toyota Tacoma?
By using a component set and our speaker & tweeter adapters, you can quickly and easily install an aftermarket component set into your Toyota Tacoma. We offer custom sized tweeter mounts to help you get them installed quickly and easily. Be sure to check out the videos below for detailed installation tips. Don't forget to check out our pre-packaged component sets and speaker / tweeter installation kits in our shopping cart.
Q: My tweeters say they are 1″, why do I need to order custom sized mounts?
In MOST cases aftermarket tweeters will be larger than 1″. In most cases 1″ refers to the surface area of the tweeter itself. The mounting diamter is usually larger. Most manufacters will provided the cutout or mounting diamter. This refers to the size of "hole" you need to mount the tweeters. We offer custom sizing as explained in your videos below.
Q: Do I need to use the passive crossover that was included with my component set? Can I just use the existing wiring in my Toyota Tacoma?
Y – E – S! You must use the crossovers included in your component speaker setup. In most cases, if you do not use the crossover you will damage the tweeters by introducing the lower frequency range they are not equipped to handle. The stock wiring coming from your Toyota Tacoma (at time of this post) is NOT equipped with a crossover. NOTE: If you are running an active crossover system, you probably don't need to be reading this informationJ.
Q: Can I install aftermarket tweeters by using the factory speaker wire?
Yes, but see the detailed information below.
Q: I already installed a set of 6×9 or 6.5 inch speakers and want to add a tweeter; can I add these to my existing speakers?
Possibly, however, please see below for detailed answer.
Detailed answer to questions above:
In our opinion, the best case scenario to add tweeters to your Toyota Tacoma is to purchase a component set. Component sets generally include a midrange woofer, tweeter & passive crossover. This type of system will provide the best case scenario for a number of reasons. 1. The tweeter & midrange woofer will be properly "matched" to produce the best frequency range. Additionally, it will avoid duplicating signal and wasting power coming from the same speaker system. 2. You will be providing the correct resistance load (Ohms) to your head unit or amp. 3. Alleviates nuances and installation complications of adding mismatched drivers. NOTE: Stand alone tweeters are generally equipped with an inline crossover.
Check out our plug and play tweeter wire harness adapters:
If you already purchased speakers and would like to add tweeters this is possible. However, you need to consider the following. You MUST have a crossover in place to protect the tweeter from lower frequency range. Some aftermarket / stand – alone tweeters have these "inline". An example is the:
https://tacotunes.com/toyota-tacoma-double-access-cab-xrunner/alpine-sps-110tw-tweeters/
You would run this in "parallel" with your existing speaker. However, this creates a "potential" problem. When you wire two drivers in parallel, you will change the resistance and final load (Ohm) delivered to your head unit or amp. In most cases you will end up with a 2 Ohm load. Most head units are not setup to handle the heat generated by a 2 ohm load. This will lead to premature head unit failure due to excessive heat. Many amplifiers can handle a 2 ohm load. Ok so now the power issue is explained now you have a staging issue to contend with. Your speakers and tweeters will now be producing the same frequency range. This is because your speakers have built in tweeters as well.
We are not stating this will not work, it is just not best practice. And, in many cases your general car audio enthusiast will be happy with the 'extra" signal they are getting.
NOTE: Our mission is to provide the best sound system and quality. Therefore we do NOT suggest adding stand – alone tweeters to your sound system. Again, we are not stating it does not work, it is simply does not meet industry standards for best practice.
In an effort to provide the best and most cost effective way of adding aftermarket tweeters to your Toyota Tacoma. We are not implying it is the only method.
General Questions:
What is a tweeter and why do I need one:
Currently, (this was published 2013), technology does not provide a single "driver" that is able to reproduce the entire audio frequency range audible to a human being. Humans in general can process an audible frequency range between 20Hz & 20,000Hz.
NOTE: Many people refer to drivers as speakers, when in fact speakers are comprised of a set of drivers joined together to create a speaker system. A tweeter is not a speaker, it is actually a driver, just like a midrange woofer or subwoofer are actually drivers. If you want a sound system to reproduce sound accurately and with great clarity a good set of drivers is required.
Q: Is tweeter placement important?:
Tweeter placement is the MOST important of all drivers. The higher the frequency range the more directional it becomes. Check out the videos below on understanding the frequency range.
Q: What is crossover and why do I need it.
There are two types of crossovers that we use in car audio; active and passive. In this answer, we will cover a passive crossover. If you are familiar with active crossovers, you probably don't need to be reading this information J. The basic task for a passive crossover is to send the high frequency signal to the tweeter and the lower frequency signal to the mid range driver/woofer.. A crossover is basically two frequency filters working in parallel. A high pass section and a low pass section. The high pass section passes high frequencies, the low pass passes low frequencies. The high pass is placed in series with the tweeter, and the low pass is in series with the woofer. Generally speaking a two way crossover will have six terminals. Two in (signal from head unit or amp) , and four out (signal out to tweeter and mid range). Usually the two sections (high-pass and low-pass) are in parallel and both sections ONLY work properly when the woofer and tweeter are both attached and operational.
Videos:
How to instal tweeters in to your Toyota Tacoma:
How to remove door panels Toyota Tacoma:
Understanding Audio Frequency Range: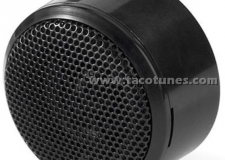 JL Audio TR050-CT Tweeters Toyota Tacoma
Polk Audio DB1001 Tweeters Toyota Tacoma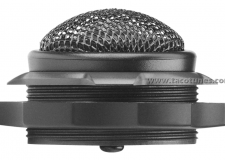 JBL GTO18T Tweeters Toyota Tacoma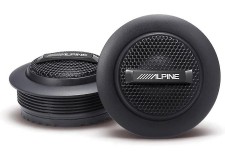 Alpine SPS-110TW Tweeter Manual Toyota Tacoma