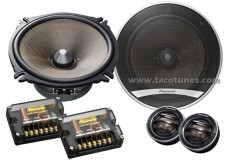 Pioneer TS-D1720C Component Speakers
Toyota Tacoma
Pioneer TS-D1720C Component Speakers
To install Pioneer TS-D1720C Component Speakers into your Toyota Tacoma, you will want to use tacotunes.com speaker adapters designed to work in your Tacoma. The Pioneer TS-D1720C Component Speakers require a 5.7″ cutout diameter for the mid range speakers. The Pioneer TS-D1720C Component Speakers tweeters will require a 1.77″ cutout diameter.

The Pioneer TS-D1720C Component Speakers will fit you your Toyota Tacoma without any cutting, drilling or modifications to your Tacoma.
Summary:
Mid range Driver: 5.7″ cutout diameter
Tweeter: 1.875″ cutout diameter
Top Mount Depth: 2.5 ″
Pioneer TS-D1720C Component Speakers Toyota Tacoma



| | |
| --- | --- |
| Size | 6-3/4″, 1-1/8″ (tweeter) |
| Max. Music Power (Nominal) | 260 W (60 W) |
| Cone Material | Dual Layer IMX Aramid-Basalt |
| Frequency Response | 30 Hz to 33 kHz |
| Sensitivity (1 W/1 m) | 88 dB |
| Impedance | 4 Ω |
| Crossover Frequency | ≥ 2,800 Hz (with -12 dB) |
| Mounting Depth | 2-1/2″, 1/2″ (tweeter) |
| Cut-Out Dimensions | 5-5/8″ |
PIONEERING AN IDEAL Absolute fidelity to musical sources takes form from speakers that reproduce the ambience in which sounds originate. Stage size, musicians' movement, aural reflection and other distinctive details all bring these sounds to life. Pioneer D-Series speakers are available in 2-way component packages or 2-way coaxial designs in multiple sizes that fit most vehicles.
WHAT IS "OPEN & SMOOTH?" The "Open & Smooth" sound concept of our industry-leading speakers delivers both sonic excellence and performance. The open-staging and smooth transition of driver response makes for an immersive experience that is truly the ultimate in-car sound.
Open: Open staging and sound characteristics enhance the widening effect that extends way beyond the space between speakers.
Smooth: With smooth transitions between mid-bass and tweeter, sound from these speakers is not marred by crossover frequency dips.
DUAL-LAYER IMX ARAMID/BASALT FIBER COMPOSITE CONE To create new D-Series speakers, Pioneer developed the industry's first basalt fiber made from natural rock interwoven with aramid fiber. Used in the surface layer, this dual-layer IMX (injection molded matrix) aramid/basalt fiber composite material is highly rigid and better absorbent, enhancing stability and maintaining integrity throughout a wide temperature range.
REAR CHAMBER TWEETER ENCLOSURE D-Series speakers feature an exclusive rear chamber tweeter enclosure that we first used in our famed PRS speakers. It extends mid-range frequency for improved vocal imaging and staging.
HIGH-QUALITY CROSSOVER The built-in -12dB/Octave HPF and LPF crossover improves the transition from mid to high frequency, for a smoother mid-range to tweeter response. Audiophile-grade capacitors and inductors are used, and all components are encased in a clear acrylic cover for protection.
KEY FEATURES
Smooth Off-Axis Response

Optimal Choice of Tweeter Diaphragm Shapes
Wave Guides control sound dispersion to make sound stage wider in the car.

Lower Crossover Frequency

Large-Sized Tweeter Diaphragm (1-1/8″ diameter)
Rear Chamber
Light Weight Soft-Dome Diaphragm
High-Quality Passive Crossover Network (Woofer, LPF: -6 dB; Tweeter, HPF: -12 dB)

Low Distortion

Thick Woofer Basket
Large-Sized Woofer Magnet
Dual-Layer IMX (Injection Molded Matrix