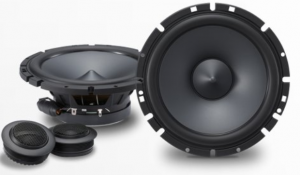 Alpine SPS 610C Component 2 Way Speaker System
Alpine SPS 610C Component 2 Way Speaker System in
Toyota Tundra
To install Alpine SPS 610C Component 2 Way Speaker System into your Toyota Tundra, you will want to use tacotunes.com speaker adapters designed to work in your Tundra. The Alpine SPS 610C Component 2 Way Speaker System require a 5.3" cutout diameter for the mid range speakers. The Alpine SPS 610C Component 2 Way Speaker System tweeters will require a 1.72″ cutout diameter.
Mid range Driver: 5 1/4 – 5.3″ cutout diameter
Tweeter: 2.0″ cutout cutout diamter
Top Mount Depth: 2 1/4″

FEATURES
Tweeter
Tweeter Type: Bright, Crisp 1" Ring Tweeter with Resonance Absorber
Mounting Design: Shallow Mounting Design
Application Type / Design Detail: External / Swivel Tweeter Mounting Kit
Magnet Material: Ultra Low Distortion Magnet Design
Woofer
Dustcap Detail: Kevlar Reinforced, Phase Integrated Dustcap
Cone Material: Varnish Multi-Layer Cap & Cone
Motor Technology: Linear Drive Technology
Voice Coil Type: Large Square-Wire Short Voice Coil
Cooling: Optimized Air-Flow Design
Magnet: High Grade Strontium Magnet
Mounting: Shallow Mounting Design
Frame: Rigid Custom Cast Aluminum Frame
Mounting Adapters: Mounting Adapter Kit Included
Crossover Network
Grade: Professional Grade Network
Case Design: Sleek Crossover Case
Attenuation Control: 7-Level Tweeter Attenuation
Mounting: Shallow Mounting Design
Upgraded Design, Quality Sound Reproduction
Experience greater detail and impact of your music with the hybrid layered-pulp with mica coating woofer cone and new 1″ ring tweeter. A new external network design with seven-level tweeter adjustment allows for precise tuning, while the hidden screw terminal gives a sleek appearance. Adjust the tuning of your speakers using the crossovers to individually perform fine adjustments of the tweeter level. Ultimately, get far more detail and bright and crisp sound reproduction for a great sounding, loud system.
Easy Installation
Installation is made fast and easy with a shallower mounting depth, and basket design. A 6″x8″ mounting adapter plate is also included for fitment, so this solution is versatile to fit in many vehicles (Only Available on SPR-17S and SPR-13S). Choose from multiple models of both components and coaxials to fit the needs of your car.
Better Balance & Staging
The coaxial models feature a 1″ swivel ring tweeter to improve off-axis response in less than ideal installation locations. You can aim it by hand for best sound balance and staging, pointing at the optimum listening position.
Smooth High Frequency
Resonance Absorbers are used to ensure "focused" tonal playback, eliminating unwanted reverberating sound.
Accurate Tweeter Control
Ultra Low Distortion Magnet Design uses extra copper and large neodymium magnet is used to create accurate speaker control, ensuring low distortion and high tonal accuracy.
Fine-Tuned Multi-Layer Cone
New shape & cone materials are used in the Type-R series. The cone uses a combination of thick top-coated varnish, special fibers and glue, and rigorous pressure testing to ensure a lighter and strong material for smooth consistent performance.
Faithful to the Original Sound
The High-performance Linear Drive Motor structure has a large magnet that is almost as big as the voice coil diameter. Its dual radial magnet and twin gap combined with a square, edge-wound voice coil gives the diaphragm linear movement over a much greater range. This means the speaker is faithful to the input signal even during high excursion, for accurate musical reproduction and deep bass.
Superior Efficiency and Linearity
Alpine's exclusive design allows wider music range playback, tonal and stable balance with greater excursion, and precise speaker movement for accurate music reproduction and deep bass.
Sound, High Power Handling
A large flat copper wounding on the woofer voice coil is used for high power handling and fluid movement during music playback. This contributes great sound and durable performance from the speaker.