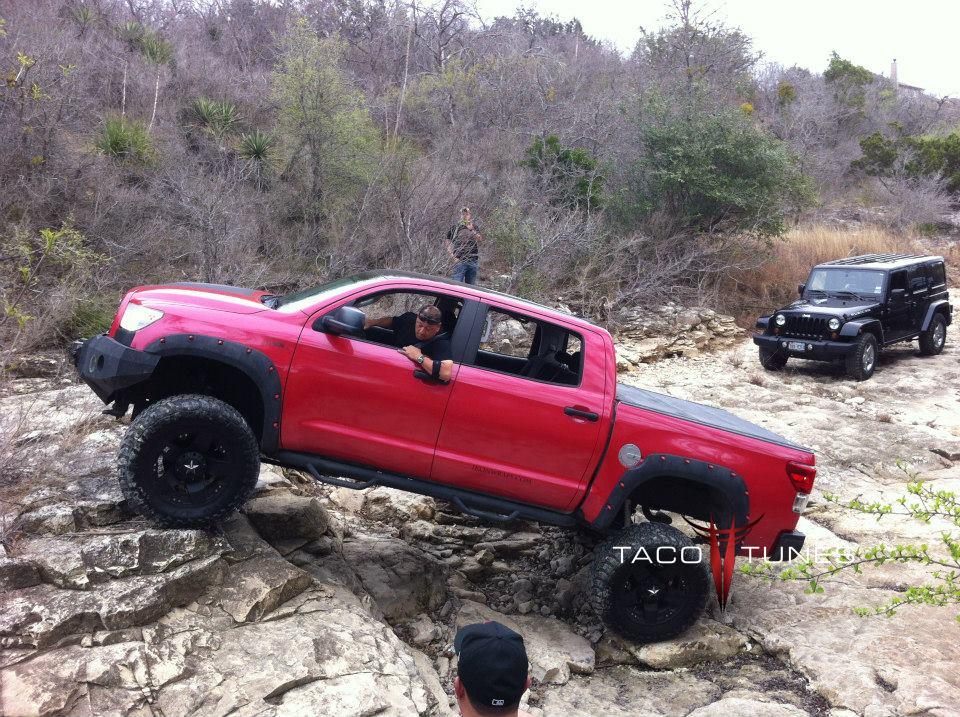 2010 Toyota Tundra Full Stereo System Installation San Antonio Texas
We had the pleasure of installing a system for a local wounded hero here in San Antonio TX. Joe Drozd is also the founder and president of a Texas Toyota Offroaders. Joe came to us after a car show where he saw a few of or demo rides. He said I have to have that!
Joe's Testimonial.
We will break up Joe's truck into two parts. The first will be installation pics of the stereo system. The second part will be pictures of his Mad Max Toyota Tundra.
Joe's Stereo System:
Joe had a basic head unit and wanted to be able to watch DVDs so he upgraded his head unit to Kenwood DVD unit. We supplied all the parts and installed the system over a 2 day period.
Matting:
First we matted the truck with Ballistic matting. The doors and rear wall was matted to help reduce ambient noise and to eliminate rattles caused by the higher powered speakers and subwoofer. NOTE: Ballistic matting is now black.  We also did not take pictures of the matting we installed on doors. We included some examples from another Tundra.
Head Unit:
Kenwood DDX770
Dash Installation Kit
Steering Wheel Interface Kit
Amp:
Exile Javelin 5 Channel Amp 100 watts x 4 (speakers) 800 watts  x 1 (subwoofer) RMS
Speakers:
Front Doors: Image Dynamics CTX65CS – Compnent Speakers & tacotunes.com speaker adapters
Rear Doors: Image Dynamics CTX65 – Coxial Speakers @  tacotunes.com speaker adapters
Subwoofer: Image Dynamics IDQ12V4D4
Subwoofer Enclosure: tacotunes.com 12″ port tuned subwoofer enclosure