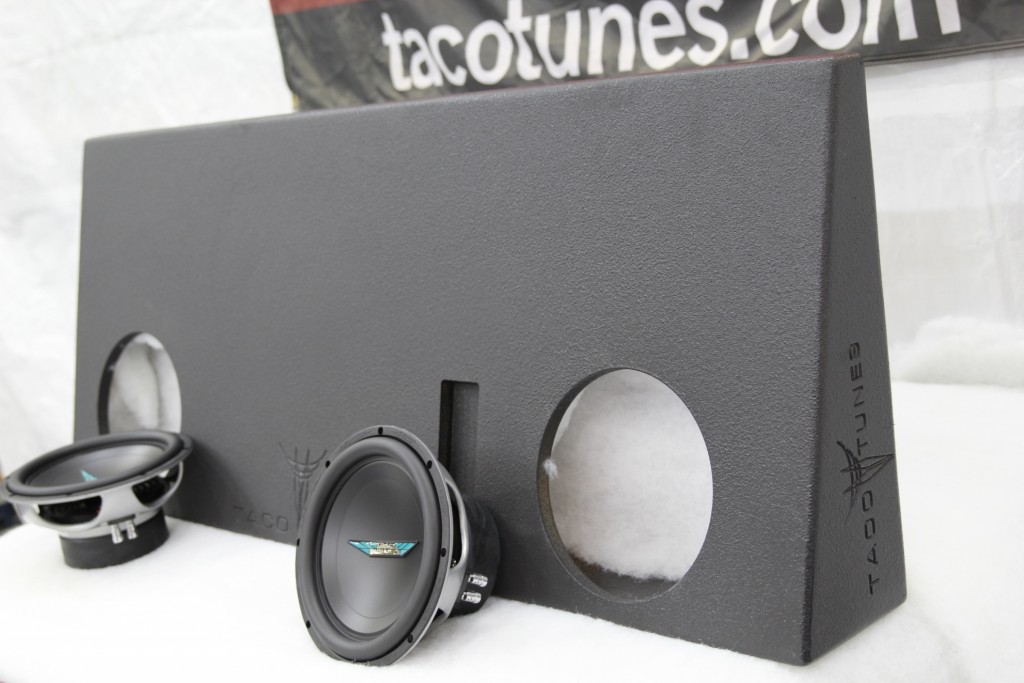 2014+ NON JBL Toyota Tundra System 1x Installation Instructions
Thank you for purchasing the tacotunes.com system 1x complete audio upgrade. This system will allow you to keep your stock head unit and utilize your existing wiring system in your Toyota Tundra. thus making it easier to return your truck back to stock if you choose to sell or trade your truck. Be sure to save ALL your stock parts.
Following the instructions below is crucial to a successful installation. We recommend prepping the following items the day before you begin your installation. This will ensure all the parts are at your disposal. There are a couple of steps where it will help to have a buddy help you out. Not necessary but makes it easier. Do NOT start drinking your favorite beverage until recommend below. Plus be sure to keep your mind sharp. By getting the installation done right the first time you will enjoy years of quality sound in your Toyota Tundra. Shortcuts and rushing through the install will cause issues down the road. Take your time enjoy the install.
Prep Time – 1-3 hours
Prepping the day before the install:
Download test tones and burn to CD. Click here to download test tones.
Mount your crossovers to the provided crossover mounts. (see speaker install video)
Connect the 18g & 16g wiring to the crossovers
If mounting your tweeters in sail panels, prepare your sail panels.
Assemble your amp rack, amplifier, distribution block etc. (see video below)
Assemble your subwoofer / subwoofer box. (see video below)
Watch installation videos to understand the process.
Get your six pack on ice. DO NOT OPEN until instructed! 🙂
Go over checklist and ensure all parts are in the package. We have a checklist that we do on EACH system. But we are human so it is possible a part was missed.
Installation: 3 – 5 hours
Tundra Preparation
UNPLUG YOUR BATTERY.

Remove the NEGATIVE connection from the battery and secure it AWAY from battery.
Unplug battery – ground connection.
Remove the door panels – if you are installing new speakers.
Remove door sills.
Remove front passenger seat. (you can lean seat back per video)
Remove center console cover.
Remove rear seats (if installing subwoofer) – have a friend help the rear seats are heavy. ( you can lean larger seat to front of vehicle to avoid removal). Remove the smaller passenger side seat to make it easier to access amp under front seat. NOTE: Use the rear wall pad (per vid) as a way to protect your carpet from the rear seats.
Remove stock amplifier under front passenger seat. (save the bolts)
Remove front / rear speakers.
Remove dash speakers / tweeters and center speaker if equipped. You can leave them unplugged and in place, but we recommend leaving them unplugged during and after you have completed your install.
If you will be matting your doors we suggest doing this before you begin the steps below. Keep in mind matting will add a full day to your install.
Installation Steps:
Run power wire from battery to new amp location. (see video)
Assemble the fuse block and complete under hood details. (Do not connect to battery)
Run subwoofer wire to rear of vehicle per the installation video.
Install amps / amp rack per video. (do not connect speaker output connections)
Connect input side of amp first. (Blue molex plugs from direct connect harness)
Connect battery
Tune amplifiers per tuning video(s).
Install front / rear speakers.
Install subwoofer.
Test system – ensure playing correctly.
disconnect battery.
Install center console.
Install seats BEFORE installing door panels and door sills. (battery should be unplugged)
Install door sills.
Install door panels.
Connect battery.
Test the sound and ensure all playing properly.
Open a single beverage, beat your chest and listen to your tunes for about 10 minutes.
Finish cleaning up odds and ends.
Be sure to save ALL stock parts.
Congratulations you just installed an audio system that would have cost thousands of $ at your local audio shop.
Videos:
Preparing for installation:
How to remove door panels:
Installing Power Wire
How to tune TXD8005 (System 1)
How to tune TXD3204/10001 (System 1B)