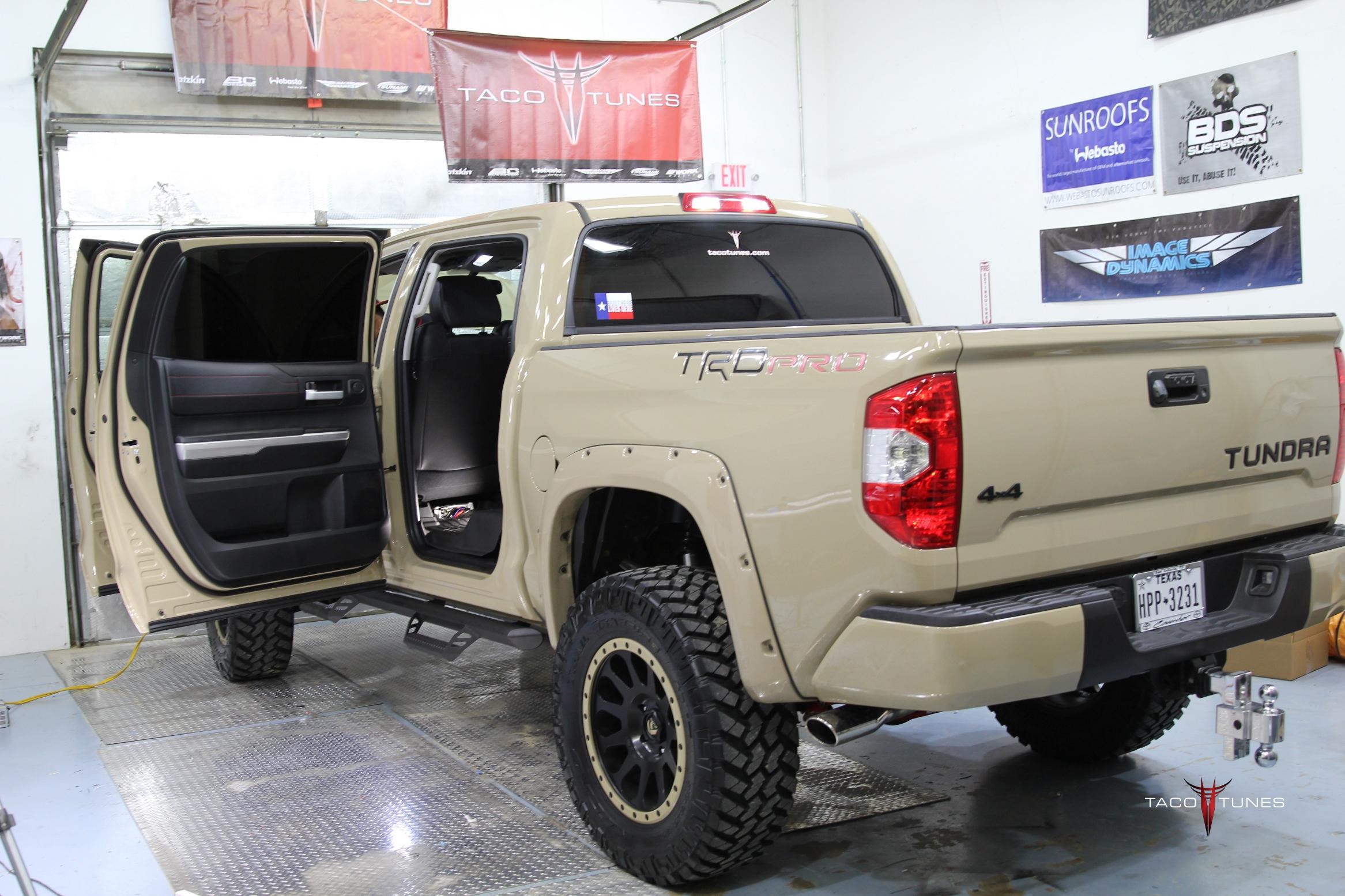 2016 Toyota Tundra CrewMax TRD Pro Complete Audio System Install
This is a brand new TRD from a local Toyota dealership here in San Antonio
Installation Summary / History:
Toyota Year / Model: 2016 Toyota Tundra CrewMax TRD Pro
Head Unit: NON JBL
Color: Sand
Installed by: tacotunes.com
Lift: ReadyLift 6″
Wheels: Fuel Beadlock – (discontinued)
Tires: 37x 12.5×20 Nitto Trail Grappler
Most of the pictures are before the lift.
System Installed: tacotunes SQ1 packaged system
After the lift:
Below you will find a detailed listing of all the parts we used in the installation.
Typical Installation time is 1 day, however we matted the front, rear doors and the rear wall behind the subwoofer. If we are matting the truck we keep the truck for two days. One day audio installation and matting jobs are possible, but require at least 14 hours with the truck.
Below is a detailed listing of the audio products installed in Chris Tundra CrewMax
Front Door Component Speakers:
Image Dynamics CXS64
Tacotunes.com heavy duty speaker mounts cut to 5.6"
CXS Mid bass Drivers -125 Watts RMS
CXS Crossover
CXS 28M Silk Dome Tweeter
NOTE: JBL equipped
Use Stock Sail Panel for Tweeter mounts.
Rear Door Components:
Image Dynamics CTX65CS
Tacotunes.com heavy duty speaker mounts cut to 5.6"
CTX65CS Mid bass drivers Handles -100 watts RMS
CTX65CS Crossover
CTX Tweeters
Tweeters will fit in stock door location
Sound Processor:
Tacotunes.com ReCurve EZQ
Tacotunes.com JBL Harness
Amp:
Exile Audio 5 channel amp
100 watts x 4 to each speaker and 800 x 1 (subwoofer)
Subwoofer(s):
Subwoofer Box & Subwoofers
Tacotunes.com Dual 12″ subwoofers
Image Dynamics ID12V4 (full size) 10" subwoofer 400 watts RMS x 2
Tundra Install kit:
Stereo & Wiring Installation kit:
Stinger Power, Speaker and Signal Cables:
Positive:
Stinger 3′ POWER CABLE 4GA – Ring Terminal Attached
Stinger 13′ POWER CABLE 4GA
Negative:
Stinger 4′ POWER CABLE 4GA – Ring Terminal Attached
Color Coded Speaker Wire:
Stinger 50′ 16GA Black Speaker Wire (Driver Side Speakers)
Stinger 50′ 16GA Silver Speaker Wire (Passenger Side Speakers)
Stinger 25′ 18GA Black Speaker wire (Driver Side Tweeters)
Stinger 50′ 18GA Silver Speaker Wire (Passenger Side Tweeters)
Stinger 50' 12Ga Black Subwoofer Wire
RCA Signal Cables:
1 Stinger RCA CABLE 12 Ft Twisted Pair – 6 Channel (Front / Rear / Sub)
Misc Items:
35′ Primary Blue Remote Turn on wire
6′ 3/4 Split Loom
T-Spec ANL Fuse Holder
T-Spec 100 Amp ANL Fuse
10 Crimp Caps
8 Speaker Terminals .25 (Door speakers)
4 Speaker Terminals .187 (tweeters)
4 Speaker Terminal .25 (subwoofer)
15 Small Zip Ties
15 Large Zip Ties
Under Seat – Amp Mounting Gear:
2 Nylons Spacers
2 Self Tapping Screws
Matting:
Ballistic Matting 4 x Doors & Rear Wall takes 9 sheets to complete Tundra – Standard bulk pack includes 9 sheets.