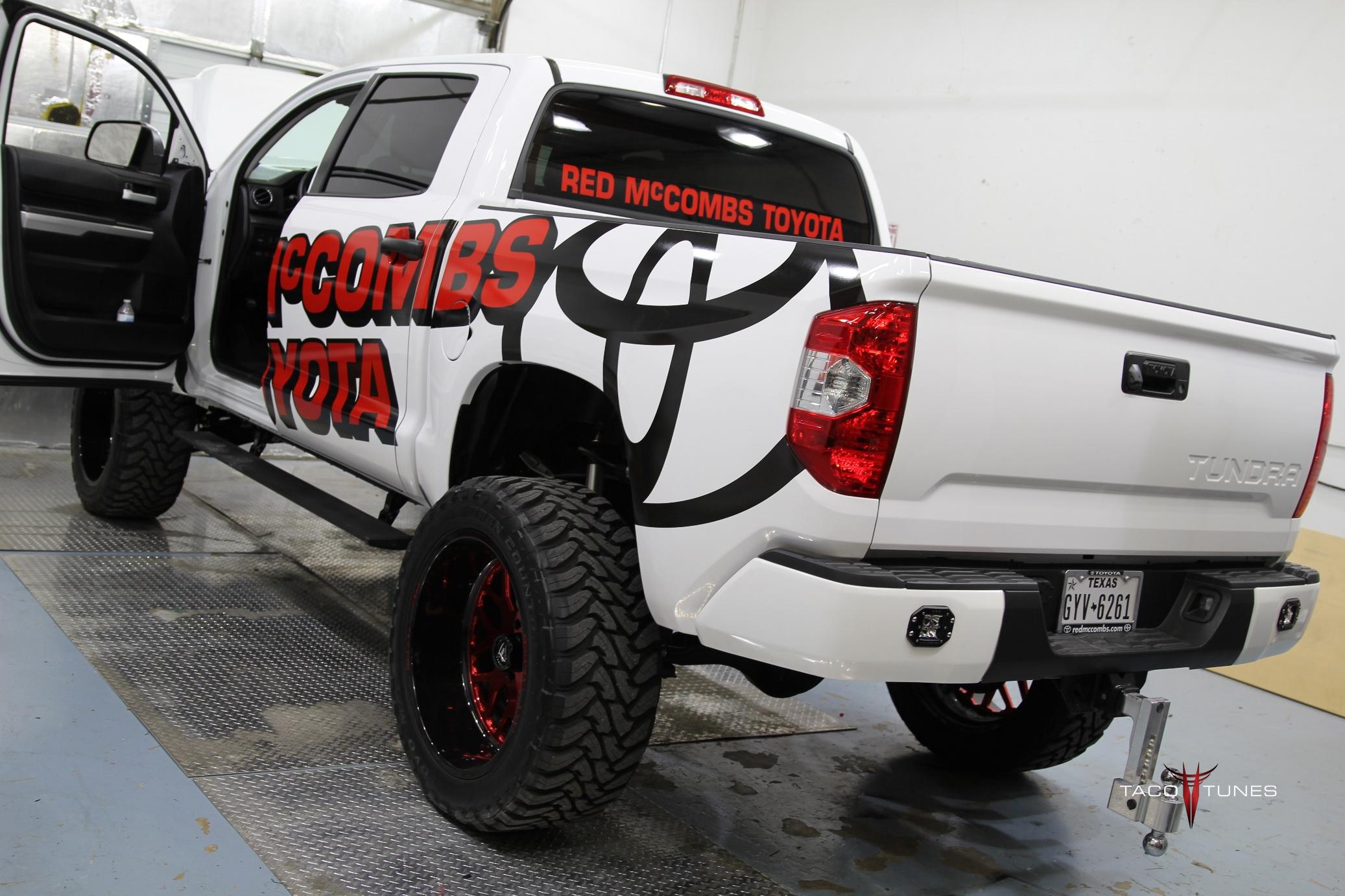 Red McCombs 2016 Toyota Tundra CrewMax Plug n Play Audio System Upgrade
This is a brand new TRD from a local Toyota dealership here in San Antonio
Installation Summary / History:
Customer Name: Red McCombs Toyota
Toyota Year / Model: 2016 Toyota Tundra CrewMax
Head Unit: NON JBL
Color: White
Installed by: tacotunes.com
System Installed: Tundra System 1
This truck is heading back to the dealership to be used to demonstrate tacotunes.com products.
Below you will find a detailed listing of all the parts we used in the installation.
Typical Installation time is 1 day, however we matted the front, rear doors and the rear wall behind the subwoofer. If we are matting the truck we keep the truck for two days. One day audio installation and matting jobs are possible, but require at least 14 hours with the truck.
Below is a detailed listing of the audio products installed in Chris Tundra CrewMax
Front Door Component Speakers:
Image Dynamics CTX65CS/ID65CS
Tacotunes.com heavy duty speaker mounts cut to 5.6"
CTXCS Mid bass Drivers -100 Watts RMS
CTXCS Crossover
CTXCS Tweeter
Use Stock Sail Panel for Tweeter mounts.
Rear Door Components:
Image Dynamics CTX65CS
Tacotunes.com heavy duty speaker mounts cut to 5.6"
CTX65CS Mid bass drivers Handles -100 watts RMS
CTX65CS Crossover
CTX Tweeters
Tweeters will fit in stock door location
Amp:
tacotunes.com TXD3204 Four channel amplifier
tacotunes.com TXD6001 Mono subwoofer amplifier
70 watts x 4 to each speaker and 400 x 1 (subwoofer)
Subwoofer(s):
Subwoofer Box & Subwoofers
Tacotunes.com Dual 10″ subwoofers
Image Dynamics ID10V4 (full size) 10" subwoofer 400 watts RMS x 2 
Matting:
Ballistic Matting rear wall only