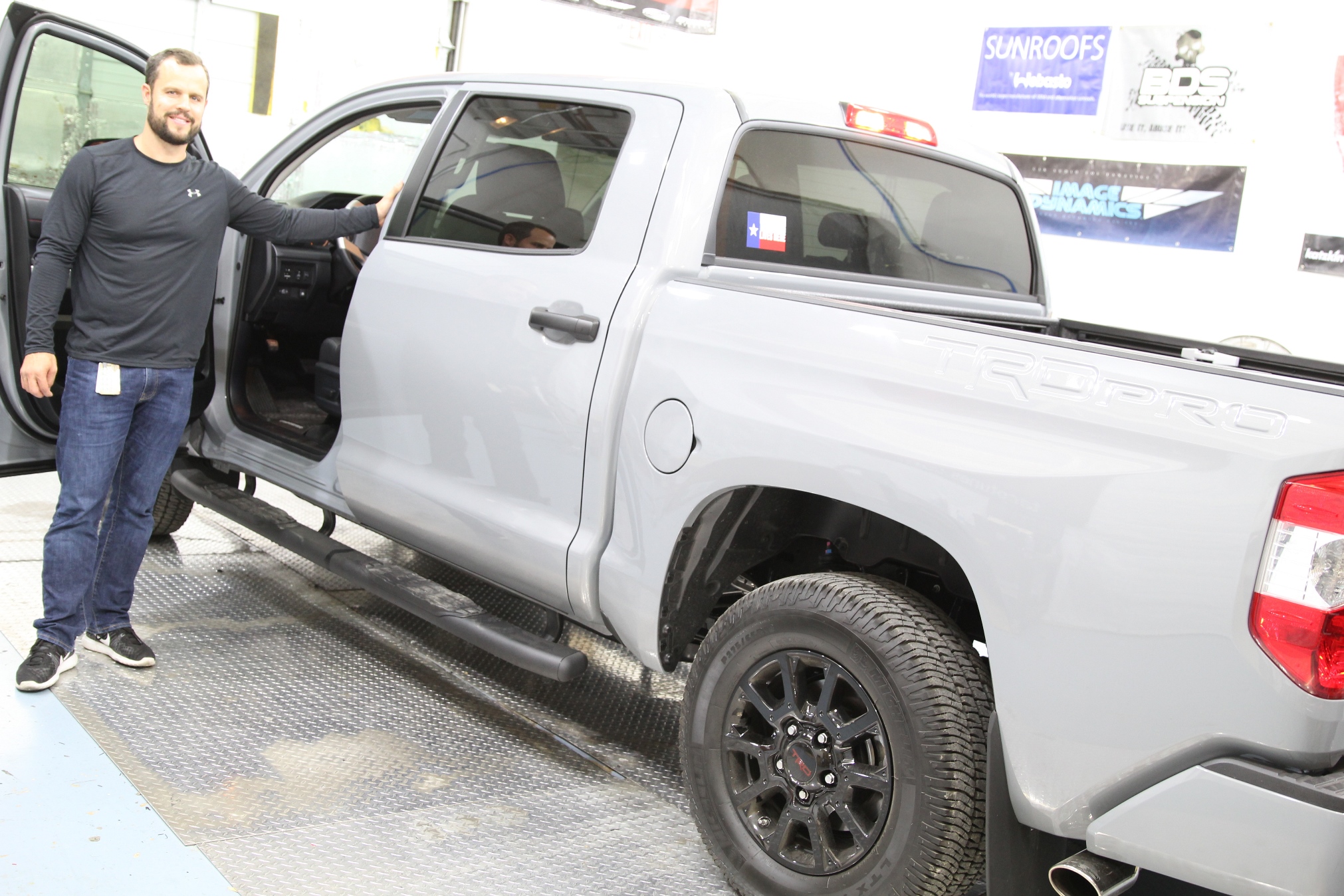 2017 Toyota Tundra TRD PRO Stereo Speaker Audio Complete Upgrade San Antonio TX
Brannon's  2017 Toyota Tundra CrewMax TRD Pro Complete Stereo System Upgrade San Antonio TX
Installation Summary / History: Brannon is on the management team at RackSpace hosting here in San Antonio. He was referred to us by a local Toyota Dealer.
Customer Name: Brannon
Toyota Year / Model: 2017 Toyota Tundra CrewMax TRD Pro Cement
Head Unit: Non JBL
Color: Cement
Installed by: tacotunes.com
Brannon came to us with high expectations for his brand new 2017 Toyota Tundra TRD Pro. He was aware he would be upgrading the stock stereo.
Below you will find a detailed listing of all the parts we used in the installation. We also included some pictures of the 12″ subwoofer next to 10″ subwoofer and a shallow mount 12″ subwoofer.
Typical Installation time is 1 day, however we matted the front, rear doors and the rear wall behind the subwoofer. If we are matting the truck we keep the truck for two days. One audio installation and matting jobs are possible, but require at least 14 hours with the truck.
Below is a detailed listing of the audio products installed in Tobin's Tundra CrewMax
Specs on the audio installation:
The AMP is hidden under the driver seat. Sound Processor (ReCurve EZQ) is hidden under rear set. The full size Image Dynamics 10" subwoofers fit behind the rear seats. The entire truck appears to be stock and makes the truck appear to e stock and less likely for break ins. Additionally, the gear is setup for Toyota's so chances of theft are greatly reduced.
Front Door Component Speakers:
Image Dynamics CXS64
Tacotunes.com heavy duty speaker mounts cut to 5.6"
CXS Mid bass Drivers -125 Watts RMS
CXS Crossover
CXS 28M Silk Dome Tweeter
Use Stock Sail Panel for Tweeter mounts.
Rear Door Components:
Image Dynamics CTX65CS
Tacotunes.com heavy duty speaker mounts cut to 5.6"
CTX65CS Mid bass drivers Handles -100 watts RMS
CTX65CS Crossover
CTX Tweeters
Tweeters will fit in stock door location
Sound Processor:
Tacotunes.com ReCurve EZQ
Tacotunes.com JBL Harness
Amp:
Exile Audio 5 channel amp
100 watts x 4 to each speaker and 800 x 1 (subwoofer)
Subwoofer(s):
Subwoofer Box & Subwoofers
Tacotunes.com dual 12" subwoofer enclosure 2.0" cu feet
Image Dynamics ID12V4 (full size) 10" subwoofer 400 watts RMS x 2 (800 watts RMS)
Tundra Install kit:
Stereo & Wiring Installation kit:
Stinger Power, Speaker and Signal Cables:
Positive:
Stinger 3′ POWER CABLE 4GA – Ring Terminal Attached
Stinger 13′ POWER CABLE 4GA
Negative:
Stinger 4′ POWER CABLE 4GA – Ring Terminal Attached
Color Coded Speaker Wire:
Stinger 50′ 16GA Black Speaker Wire (Driver Side Speakers)
Stinger 50′ 16GA Silver Speaker Wire (Passenger Side Speakers)
Stinger 25′ 18GA Black Speaker wire (Driver Side Tweeters)
Stinger 50′ 18GA Silver Speaker Wire (Passenger Side Tweeters)
Stinger 50' 12Ga Black Subwoofer Wire
RCA Signal Cables:
1 Stinger RCA CABLE 12 Ft Twisted Pair – 6 Channel (Front / Rear / Sub)
Misc Items:
35′ Primary Blue Remote Turn on wire
6′ 3/4 Split Loom
T-Spec ANL Fuse Holder
T-Spec 100 Amp ANL Fuse
10 Crimp Caps
8 Speaker Terminals .25 (Door speakers)
4 Speaker Terminals .187 (tweeters)
4 Speaker Terminal .25 (subwoofer)
15 Small Zip Ties
15 Large Zip Ties
Under Seat – Amp Mounting Gear:
4 Nylons Spacers
4 Mounting Bolts
4 Mounting washers
4 Sealing Caulk
Optional Items:
 Matting:
Ballistic Matting 4 x Doors & Rear Wall takes 9 sheets to complete Tundra – Standard bulk pack includes 9 sheets.