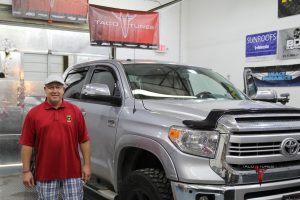 Guys' Toyota Tundra JBL Wiring Repair and audio system re-makeover  Image Dynamics SQ1 System
Installation Summary / History: Guy lives in a town a bit north of San Antonio. He paid a local audio shop to upgrade the audio in his 2016 Toyota Tundra CrewMax 1794 Edition. After 3 visits to the same shop and another large shop here in San Antonio with no luck, he found our website. He came in for a system evaluation. Unfortunately, we see the scenario quite often . "Professional installation" shops doing a horrible job on the installation on JBL equipped Tundras. This is probably the 15th Tundra we have repaired or assisted in repairing here at our location in San Antonio.
When Guy came in, 2 of his door speakers were not working and the system was popping and turning off / on.  The system sounded worse than the stock JBL setup. We gave him a quote and he said he would have to think about it. We recommended that harness system be repaired and replacing the speakers and sub(s). Pretty much a re-do. Guy called us back and said please get this fixed.
Before we could start installing a new system, we had to repair the damaged JBL wiring system. The previous shop did not leave enough of the stock wiring to work with. We had to create a new harness and solder back to original stock wiring. In the pictures below you will see the repair process.
Customer Name: Guy
Toyota Year / Model: 2016 Toyota Tundra CrewMax 4×4 1794 Edition
Head Unit: JBL Equipped
Color: Silver
Installed by: tacotunes.com
System Installed: tacotunes SQ1 packaged system
Matted the entire truck.
Guy loves audio in his truck. He had systems in his trucks since back in his high school days. He was pretty much dancing when he left the shop.
Toyota Tundra JBL Wiring Diagram