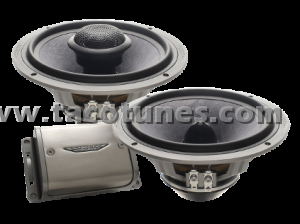 Image Dynamics XS65 Component Speakers Toyota Tundra
Toyota Tacoma Image Dynamics XS65 Component Speakers
Installation tips:
To install Image Dynamics XS65 Component Speakers into your Toyota Tundra you will want to use our custom size 5.6″ cutout diameter for the mid range speakers, the tweeter will require a custom sized hole. We are Image Dynamics authorized! You can purchase the speakers and accessories you will need to get these installed quickly and easily.
You can purchase these from our shopping cart: XS65 Purchase www.tacotunes.com
Image Dynamics XS65 Component Speakers: The XS Series Components from Image Dynamics are the culmination of a engineering driven research and development project to produce sound performance that is without compromise.Powerfully detailed and dynamic in their musical output, they excel in the challenging automotive acoustic environment. XS Hybrid Components produce midrange with presence and detail without any coloration. The mid-bass carries weight and impact, and the highs are alive with detail and clarity without fatiguing harshness.Available in 6.5″ and 6×9″ models. An innovative speaker system, the XS Series allows multiple tweeter mounting options for the best in-car performance and ease of installation.
Speaker Size: 6.5″ Neo Component w/silk Tweeter
Resistance: 4 OHM Component
Rated Output: 25 -200w
Sensivity: 92db
Frequency Range: 55Hz – 25kHz
Top Mount Depth: 3.0″