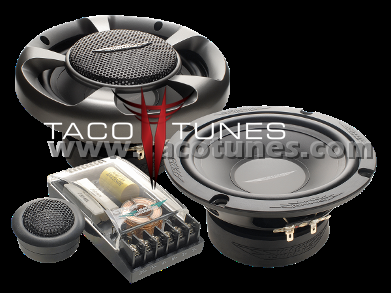 Image Dynamics CTX65CS Component Speakers Tweeters
Image Dynamics CTX65CS Component Speakers Tweeters installing in your Toyota Tundra
Tacotunes.com is Image Dynamics Authorized. Please visit our shopping cart to purchase Image Dynamics CTX65CS Component Speakers Tweeters bundled with the parts you will need to get them installed quickly and easily.
Image Dynamics CTX65CS Component Speakers Tweeters
Image Dynamics CTX65CS Component Speakers Tweeters: CTX Component Speakers are the affordable solution for the sound enthusiast seeking a high performance speaker system. Their high efficiency provides incredible detail and very high output levels while producing rich well-balanced sound with excellent tonal characteristics. More than the sum of the parts, the CTX components feature a long excursion mid-woofer design that handles high-power amplifiers effortlessly with low distortion allowing higher output levels. The Silk dome CTX tweeters deliver the dynamics and detail without listening fatigue or harshness.The CTX components performance is the product of proper materials and a well executed engineering design. This translates to neodymium magnet silk dome tweeters with swivel mount, mica-polymer composite cones that are stiff, yet light and well-damped butyl rubber surrounds. Crossover with 250 volt metalized polypropylene capacitors air core inductors and 3 position tweeter level control.
Speaker Size: 6.5″
Resistance: 4 OHM Component
Rated Output: 25 -200w
Sensitivity: 89db
Frequency Range: 55Hz – 25kHz
Top Mount Depth: 2.75″
Image Dynamics CTX65CS Component Speaker Manual Toyota Tundra