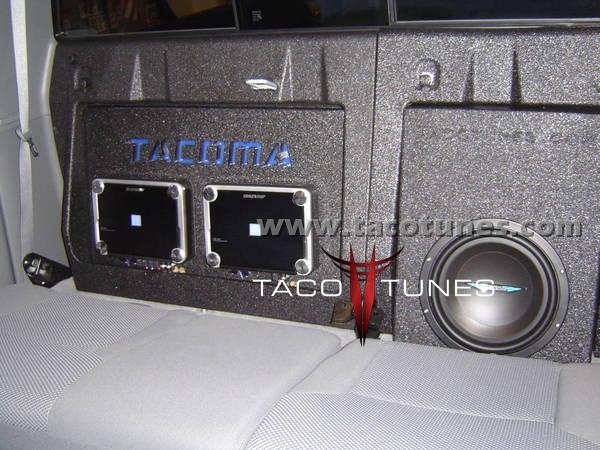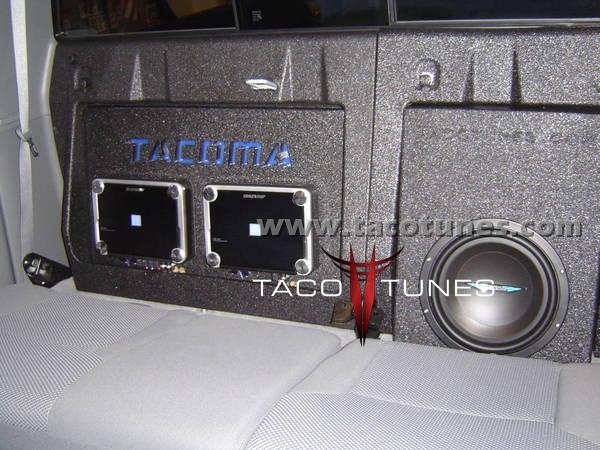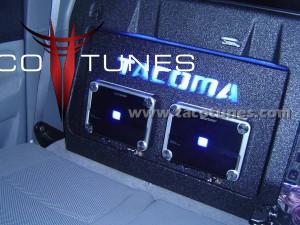 Toyota Tacoma Stereo pictures complete audio system subwoofer amplifiers
Customer installs Complete Toyota Tacoma Stereo pictures complete audio system subwoofer amplifiers
Toyota Tacoma Stereo pictures complete audio system subwoofer amplifiers installed by one of our customers that took time to document his entire installation process.
Below is a detailed installation of a complete audio system installed in Toyota Tacoma. Customer installation pictures complete audio system subwoofer amplifiers
I bought my truck 3 months ago with 7 miles on it. It's the 2009, Silver, 4×4, Double Cab, Long Bed, Hood Scoop, TRD, Tow Package… I couldn't wait to rip out the sound system and put in something awesome. Well, my week long project is finally complete! Thanks to TacoTunes for some great ideas and great products supplied. The setup includes a long list of items… some I purchased on my own, such as headunit, bluetooth, XM, iPod connector, Amps, FatMat… and the rest I purchased from TacoTunes. I was pleasantly surprised to see such great quality and great looking items that I received.
Here is the list of everything installed: Pioneer AVIC-Z2 HDD Navigation Media Center Pioneer GEX-P10XM Receiver w/ Nav Traffic Pioneer CD-IB100II iPod adapter Pioneer ND-BT1 Bluetooth adapter Boyo RearView License Plate Camera PAC SWI-PS steering wheel control unit Image Dynamics XS65 Components (front doors) Image Dynamics CTX65 Coaxials (rear doors) Image Dynamics IDQ D4v3 (sub) Alpine PDX-4.100 Alpine PDX-1.600 Sub Box with polyfill Amp Mounting Board ("Tacoma" cutout with blue plexiglass and LED lighting) Custom Amp Kit (includes power, speaker, RCA wires/fuse block/power distro block/screws, wire connectors, tie wraps) Custom Speaker mounts Fat Mat sound dampener
The pictures are pretty much in sequential order so you can see the process of the install. I've also included pics of all the pieces of installed equipment so you can see what I used. Here it goes:
Stock storage bins… those came out with a quickness.
www.tacotunes.com products used in this installation:
Front Door Speakers:
Image Dynamics XS65 Component Speakers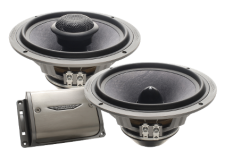 Helpful links: