Description
2005-2019 Toyota Tacoma Plug and Play Replacement Amplifiers
You want to add an amp and keep your stock stereo head unit (stereo)? Not a problem!
YES! Works with aftermarket head units (stereo)s also!
NOTE: This will not work with JBL equipped Tacomas
These plug and and play amps are a direct inline / plug and play setup for your Toyota Tacoma. Per our instructions (coming very soon – see Tundra vids below for idea), you simply run the plug and play harness, run a power wire to your battery and now you will boost your stock head unit OR aftermarket head unit to 100 watts to front speakers and 100 watts to rear. . In addition, you can select the optional mono / subwoofer amplifier and provide up to 600  or 1000 watts RMS to your after market subwoofer.
Please select the options you wish to add on to your plug and play amp kit. The TXD3204 4 channel amplifier is required. You can select to purchase the TXD6001 or TXD10001 subwoofer amp at a later date.
Please note your stock speakers are not setup to handle this much power. So be sure to check out our plug and play speaker upgrade options. In addition, we even offer turnkey packages to install a complete audio system in your Toyota Tacoma. If you are planning to use your own speakers, be sure to check out our plug and play wire harness adapters. Our harness adapters plug directly in the stock wiring. Be sure to check out our videos on how to install component speakers in your Tacoma
Installation is much quicker and easier than a standard amplifier installation.
Assemble your amp kit.
Disconnect your battery – negative cable.
Remove passenger side seat.
Remove center console and follow instructions how running the power wire from the battery.
Remove the cover from the stock amplifier under the passenger seat.
Remove the 3 bolts that old the stock amplifier in place.
Unplug the two harnesses connected to your stock amplifier.
Plug in the the harnesses provided in this kit.
Install the amp rack or attach your amps to the floor of your truck using self tapping screws or preferred method.
Insert Blue Connector with White  / Gray wires into front input on the TXD3204 amplifier.
Insert Blue Connector with Green / Purple wires into rear input on the TXD3204 Amplifier
Insert Blue Connector with Purple (only) wires into the TXD6001 input.
DO NOT plug in the output wires.
Your TXD3204 came with 2 OUTPUT wire connectors, we will uses these to tune amplifier. NOTE: DO NOT MIX the output wires with TXD6001. The connectors and wires appear to be the same. However, they are NOT.
Your TXD6001 came with 1 OUTPUT wire connector
Tune your amps per video.
After tuning process is completed insert Front Speaker Output (Black Connector) with Gray / White wires into Front Output TXD3204
Insert Rear Speaker Output (Black Connector) with green / purple wires into Rear Output TXD3204
Insert Subwoofer output.
Amp installation completed
Check out the complete plug and play step here: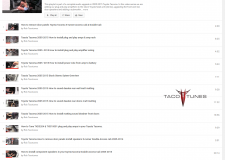 Power Wire Information:
Oxygen Free Copper (OFC) provides the best conductivity between your battery and amplifier(s). Cooper Clad Aluminum (CCA) is a great alternative to OFC when used properly. OFC & CCA specs can vary greatly. The products we use have been bench and field tested to ensure you are getting the maximum power delivered to your amplifiers.
The OFC and CCA products we use in house have a 65% ratio. To help explain this when we use 4G OFC, we can we can provide up to 125 amps (125 x 12 = 1,500 watts)  of power to your amps with minimal loss in power.The CCA we use has roughly 65% efficiency of OFC. This means the 4G CCA can provide approximately 82 (82 x 12 = 984 watts)  amps of power to your amplifiers.
Please note we are using 95% efficiency of our Class D amps in the calculation above.. These numbers will change if are using older style class AB & D amps.
There are a number of factors that are not addressed in our calculation above. If you are going to use your own install kit, be sure to do your homework. The calculation above is taking into account a maximum of 15 feet from the battery to the distribution block. IN addition, the power cables from the distribution block are less than 1 foot while the ground cables are less than 2 feet.