Description
2014 – 2021 Toyota Tundra Fiberglass Dual 12″ Subwoofer Box / Enclosure – the absolute best solution for your Toyota Tundra CrewMax.
NOTHING comes close!
Big Bass requires big air space! By matching the "curves" of the seats and rear wall. We were able to capture a whopping 4.2 Cubic feet of airspace! This subwoofer enclosure will provide the richest, deepest bass of any enclosure that fits behind the seat of your 2014-2021Toyota Tundra.
NOTHING comes close to the bass / sound quality (SQ) and SPL of this enclosure. When it comes to subwoofers enclosures AIRSPACE is KING!
You can finally have that quality bass you have been craving! Shallow mounts subwoofers in small enclosures can get "loud", but they lack tonal quality and do not hit the LOWER frequency range needed to complete the entire audible audio spectrum. This box has replaced EVERY single enclosure that any other company has attempted to design for your Toyota Tundra. Most companies stuff a couple of shallow mounts subwoofers in your Tundra and call it day . . .we spent hundreds of hours developing this enclosure to not only fit in your Tundra . . but to provide unmatched sound quality and SPL. NO other company has a setup that is in same league.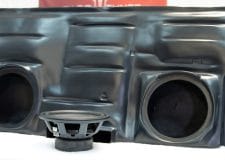 Toyota Tundra Fiberglass Subwoofer Box Dual 12 inch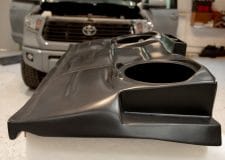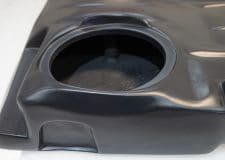 IMPORTANT INSTALLATION INFORMATION:
Your tire jack tools will need to be relocated.
Your rear wall must be properly matted. If not properly matted the box will cause the rear wall to vibrate.
The rear padding that comes stock in your Tundra must be removed. However, you can reinstall if you choose to remove the subwoofer enclosure.
The truck can be put back to it's original configuration. When you trade in, sell or turn in your lease the truck will appear and perform like a stock Tundra if you decide to remove your subwoofer enclosure.
Shipping Dimensions: 65″ x 29″ x 9″
Shipping Weight: 65 LBS
Subwoofer Cutout: 11.1″
Subwoofer Top Mount Depth: 5.75″ – 6.1″ NOTE: Magnet diameter / the angle of the enclosure affects the top mount depth.
Chamber: This is a single chamber enclosure. We recommend using a single amplifier or "strappable" amplifiers. NEVER attempt to strap amps that are NOT designed for this purpose.
FAQ:(Please check back, we will update this as we receive questions. )
Q: I am in San Antonio area, can I pickup the subwoofer box to avoid shipping costs?
Absolutely, if you are in San Antonio. Please use coupon code: SAPICKUP. When your order is ready for pickup, we will contact you to setup a date and time for pickup.
Q: I have one of your Dual 12″ subwoofer boxes with your TT12 or ID12 subwoofers. Can I simply replace the enclosure / sub box?
Absolutely and you will notice a DRAMATIC increase in SQ & SPL. Our local customers simply can't believe their ears when they go to our fiberglass enclosure.
Q. I have your wooden box for dual 12s, what is the air space in that enclosure.
Our wooden boxes provide the most air space of any wooden enclosure manufactured for your Tundra. While most of our competitors use shallow mount subs and cut corners with smaller enclosures to cut the cost of their subwoofer boxes. Our dual subwoofer Tundra Crewmax boxes are 2.1 cu ft of air space with a mounting depth of up to 5.65″
Q. I have my own shipping account with UPS/FEDEX/ETC, can you use my own account number?
Absolutely, you can use the coupon code SAPICKUP. Then in the order notes, please let us know that you are going to email us a shipping label. When the order is ready for pickup, we will let you know so you can contact your carrier. Please note we have a daily pickup with UPS. If using any other pickup service, you will need to coordinate the pickup from our location.
Q. How many units can I order?
Due to limited supply, we are currently allowing ONE order every 30 days for this item. Our installer base can order up to 5 units per month – based on availability
Q. What does limited edition mean?
Due to the high cost to manufacture this product along with the low number of units sold, we will be offering these on a VERY limited basis. We manufacture 150 units at a time. Manufacturing time is roughly 180 day for 150 units. When we run out of these, it will be roughly 3 – 9 months before they are available again. 150 units fill up an entire 18 wheeler. Manufacturing these boxes and storing them gets very costly.
2014-2021 Toyota Tundra – How to install fiberglass subwoofer box dual 12″ subs – YouTube