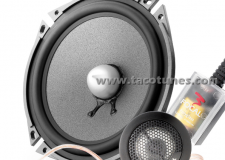 Focal Polyglass 170 V Component Speakers
Toyota Tacoma

Focal Polyglass 170 V Component Speakers

To install Focal Polyglass 170 V Component Speakers into your Toyota Tacoma, you will want to use tacotunes.com speaker adapters designed to work in your Tacoma. Focal Polyglass 170 V Component Speakers require a 5.6" cutout diameter for the mid range speakers. The Focal Polyglass 170 V Component Speakers tweeters will require a 1.797″ cutout diameter.


The Focal Polyglass 170 V Component Speakers will fit you your Toyota Tacoma without any cutting, drilling or modifying your Tacoma.

Summary:

Mid range Driver: 5.5″ cutout diameter

Tweeter: 1.797″ cutout diameter

Top Mount Depth: 2 – 1/4″

Focal Polyglass 170 V Component Speakers Manual Toyota Tacoma

These speakers have been test fit to work in the front doors Toyota Tacoma 2005 2006 2007 2008 2009 2010 2011 2012 2013 2014



Highlights:
6-3/4″ component speaker system (includes 2 woofers, 2 tweeters, 2 crossover networks, and hardware)
Polyglass woofer with butyl rubber surround
aluminum/magnesium inverted dome tweeter
fiberglass/ABS basket
outboard crossover
grilles included
6-60 watts RMS power range (120 watts peak)
frequency response: 60-20,000 Hz
sensitivity: 91 dB
depth: 2-1/4″
2-layer woofer cone and ABS basket The 170 V system features a 6-3/4″ woofer with a Polyglass cone that's created by depositing a layer of hollow glass microbeads over a layer of cellulose pulp. This unique material combines the warm sound of cellulose with the incredible strength of glass, for a cone that responds rapidly with extremely low resonance. The basket is made from a fiberglass/ABS mixture, providing a non-magnetic, non-resonant housing that won't color the sound. A butyl rubber surround helps control cone movement and promotes high power handling.
Aluminum/magnesium tweeter Focal designed the aluminum/magnesium inverted dome tweeter to disperse high frequencies evenly for a big, open soundstage. The external 2-way crossover ensures a smooth transition from lows to highs, so vocals and instruments sound natural. Grilles are included.