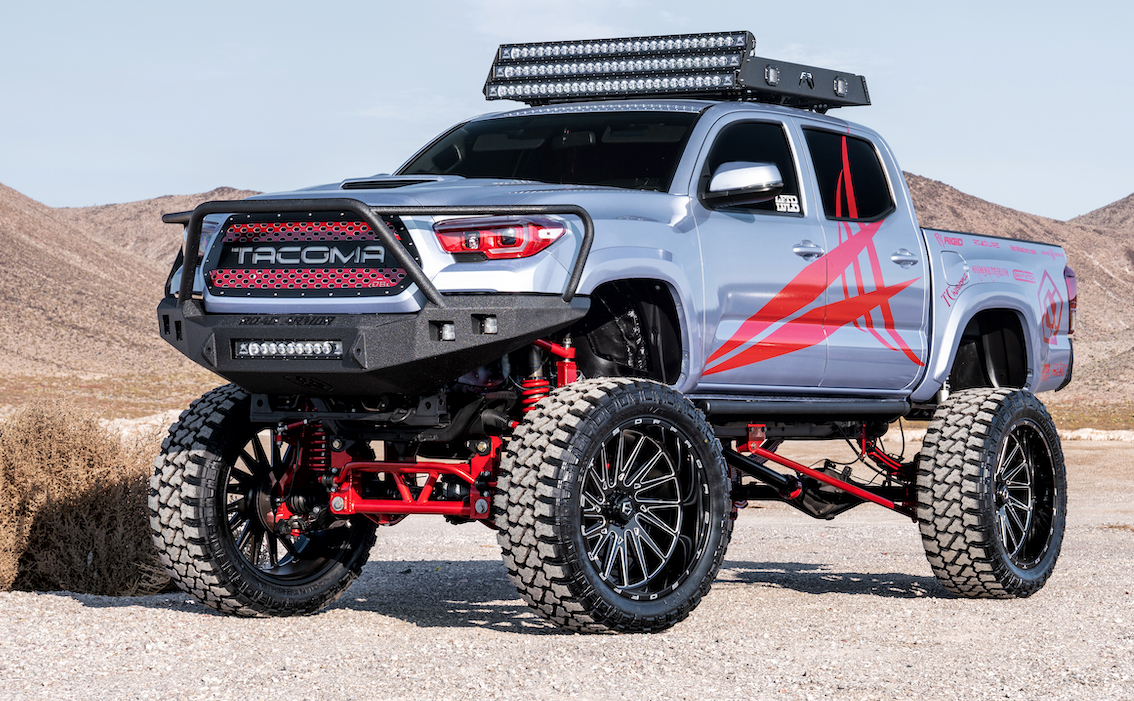 2016 Toyota Tacoma Double Cab TRD Sport 4×4 $45,000.00
Miles: Less than 16,000
Original Color: White (Wrapped) Logos & Wrap Removable
This truck was built by Josh here @ tacotunes.com. The truck was used strictly for sales & marketing. Primarily for the audio products we have developed for Toyota Tacomas, PLUS a number of product partners we have worked with over the last 10 – 15 years . . . it has never been "offroaded" and made an appearance at 2019 SEMA – TIS Wheels Booth.
EXTERIOR MOD LIST:
Fab Fours roof rack 3 Rigid industries 50" radiance LED Bars (white) 2 sets of rigid industries pods.
Avery Dennison Quick Silver wrap (Original truck color is white)
DBCustomz grille Retrofitted
OEMASSIVE headlights (rigid industries pods for brights)
Front and Rear road armor bumpers with rigid industries led lights
Amp Research power steps
3 sets of 544 Nightmare Train horns by hornblasters custom mounted under the bed
Bulletproof suspension 12" stage 4 lift kit (powder coated lollipop red diamond)
Powder coated rear axle (gloss black with red metallic)
3" body lift by performance accessories
26×12 -44 offset TIS 547BM wheels
40×15.50R26 Fury off-road country hunter M/T tires
4:88 Yukon gears
16 pc rocklight Kit
INTERIOR MOD LIST:
Tacotunes.com stereo system. Dual 12" Subwoofers in ported Enclosure, 1500 WATTS RMS to Subs & 150 watts to IDCXS64 Component Speakers front doors. Exile Audio 1500 Watt RMS marine grade subwoofer amp & Exile Audio 150×4 marine grade 4 channel amp.
Roadwire leather (black and red double diamond stitched)
Sprint booster throttle response module
Truck Suspension Build performed @maximum altitidue here in San Antonio TX
We are building a new "marketing" truck so we are NOT interested in trades or parting out. If we don't get what we are asking, we will part out and sell the mods. We are aware we can get MORE money if we part out and return the truck to stock . . but would rather save the time.