Description
2014+ Toyota Tundra SQ1 Turnkey Packaged System (DISCONTINUED)
PLEASE NOTE THESE PACKAGES CAN TAKE UP TO 5 BUSINESS DAYS TO SHIP. IF YOU CAN NOT WAIT DO NOT ORDER THE SYSTEM.
SALES ITEMS DO NOT QUALITY FOR ANY ADDITIONAL DISCOUNTS.
For the last 8 years we have been installing systems in Toyota Tundras here in San Antonio. This package includes everything you will need to install a system in your Toyota Tundra CrewMax.
This turnkey package includes the following:
To keep your stock head unit (stereo) you will need the: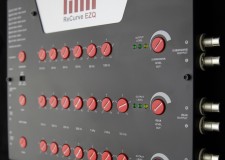 The ReCurve EZQ bundle includes:
1 – ReCurve EZQ
1 – ReCurve EZQ Wire Harness System (Please indicate JBL or NON JBL)
1 – ReCurve EZQ Bass Control Knob
To Power the speakers & subwoofer we will provide the: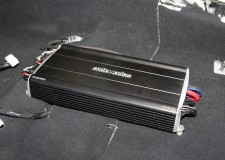 This includes:
1 – Javelin 5 Channel Amp
Front & Rear Speakers (Driver & Passenger):
KS Series 6.75″ Components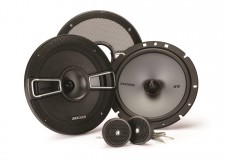 The following items are included with this bundle set:
4 – KS 6.75″ Component Speakers, Tweeters & Crossovers
2 – Front Speaker Mounts (Heavy Duty)
2- Front Tweeter Mounts
2 – Rear Door Speaker Mounts (Heavy Duty)
NOTE: You will have to modify the rear door panels to make the tweeters fit. Please see pictures below. If you don't want to modify the door, you can use coaxial speakers that have the tweeter mounted in the center. Due to the nature of this packaged deal, we will swap out the rear components for coaxial. However we will not reduce the package price.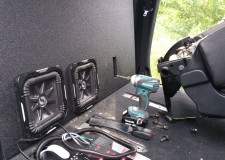 The following is included in this bundle set:
1 – tacotunes.com dual kicker solobaric L7
2 – kicker L7 8″ Subwoofers Dual 2 Ohm to match the output of the Javelin Amp
1 – terminal cup
1 – subwoofer wiring kit
1 – metric bolt
1 – mounting block
Toyota Tundra Amp, Sub and Speaker Installation Kit:
When you are installing an amplifier you will need a kit that includes a number of parts to get the job done right. We provide the following items to get the job done right.
Installation & Wiring Products.
We use a combination of Stinger Wiring & T-Spec Hardware to produce our installation kits
Stinger Power, Speaker and Signal Cables:
Positive:
Stinger 3′ POWER CABLE 4GA – Ring Terminal Attached
Stinger 13′ POWER CABLE 4GA
Negative:
Stinger 4′ POWER CABLE 4GA – Ring Terminal Attached
Color Coded Speaker Wire:
Stinger 50′ 16GA Black Speaker Wire (Driver Side Speakers)
Stinger 50′ 16GA Silver Speaker Wire (Passenger Side Speakers)
Stinger 50′ 18GA Black Speaker wire (Driver Side Tweeters)
Stinger 50′ 18GA Silver Speaker Wire (Passenger Side Tweeters)
Stinger 25′ 12Ga Black Subwoofer Wire
RCA Signal Cables:
1 Stinger RCA CABLE 12 Ft Twisted Pair – 6 Channel (Front / Rear / Sub)
Misc Items:
35′ Primary Blue Remote Turn on wire
6′ 3/4 Split Loom
T-Spec  ANL Fuse Holder
T-Spec 100 Amp ANL Fuse
10 Crimp Caps
8 Speaker Terminals .25 (Door speakers)
4 Speaker Terminals .187 (tweeters)
4 Speaker Terminal .25 (subwoofer)
15 Small Zip Ties
15 Large Zip Ties
Under Seat – Amp Mounting Gear:
4 Nylons Spacers
4 Mounting Bolts
4 Mounting washers
4 Sealing Caulk
Click here for installation notes: