Description
System 1A Packaged Audio System 2007-2019 Toyota Tundra Crewmax
For the last 10 years we have been installing systems in Toyota Tundras here in San Antonio. This package includes everything you will need to install an upgrade audio system in your Toyota Tundra CrewMax. Unlike our higher-end SQ (sound quality packages), this mid level system is for our more budget minded customers. The feedback from our customers on this setup has been awesome! We field tested this here in San Antonio before we pushed it out to our worldwide customer base.
This turnkey package includes the following:
This is our upgraded entry level audio system designed for your Toyota Tundra. Every nut, bolt, screw and part you will need is included. This setup will work with stock and aftermarket head units.
This is for NON JBL equipped Tundras only. If you have JBL or interested in larger scale audio system, click here.
Dual EZAMP Bundle 4 Channel & Subwwoofer Amplifiers (Includes Tundra Direct Connect System)
EZAMP Bundle Specs:


TXD3240v3 Front & Rear Speaker Output Amp Specs

100 watts x 4 (Front/Rear Door Speakers) RMS (4 Ohm)

150 watts x 4 (Front / Rear Door Speakers) RMS (2 Ohm) NOT recommended without sound processor.

TXD6001 Subwoofer Output Amp Specs

400 watts x 1 Subwoofer Output (2 Ohm)

The following items are included with EZAMP nstall Kit

1 – TXD6001- Subwoofer Control Knob

1- Direct Connect Tundra Plug N Play Integration System

NOTE: This setup is designed to work with your stock stereo. However, it will work with aftermarket head units as well.

1 – TXD Tundra direct replacement amp rack – bolts directly to stock mounting location. No cutting or drilling.
Tundra Full Size 12″ Ported Subwoofer Enclosure & Subwoofer
NOTE: Color & Finish may vary on the subwoofer box.
Tundra 12 inch Subwoofer Specs


1 – tacotunes.com ported subwoofer enclosure

1 – ID12D4 dual voice coil subwoofer (2 Ohms presented to amp for max power)

1 – Terminal Cup

1 – 20 foot 12G subwoofer wire


Direct Connect Plug n Play Harness System
1 – direct connect harness system. No cutting or splicing required
Front Door Speakers (Driver & Passenger):
NOTE: These are tacotunes.com branded speakers.
Image Dynamics CTX65CS Component Speakers
Component Speakers Install Kit Includes


2 -Image Dynamics ID65CS 6.75″ Component Speakers, Tweeters & Crossovers

2 – Front Door Speaker Mounts

2 – Crossover Mounting Adapters & mounting screws (2)

2 – tacotunes Sail Panels pre-sized for your new tweeters.

2 – 36″ Wire Harness Adapters (connects to stock wiring)

2 – 36″ 16G speaker wire – Red / Black (mid range)

2 – 36″ 18G tweeter wire – Red / Black (tweeter)

Rated at 100 watts (RMS)
Rear Door Speakers (Driver & Passenger):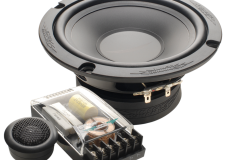 Component


2 – Image Dynamics ID65CS 6.75″ Component Speakers, Tweeters & Crossovers

2 – Rear Door Speaker Mounts

2 – Crossover Mounting Adapters & mounting screws (2)

2 – 36″ Wire Harness Adapters (connects to stock wiring)

2 – 36″ 16G speaker wire – Red / Black (mid range)

2 – 36″ 18G tweeter wire – Red / Black (tweeter)

Rated at 100 watts (RMS)